Is social media contributing to wildlife decline in Canada's Arctic?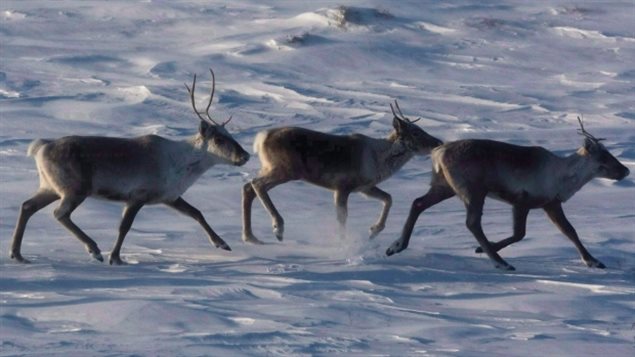 New warnings are being made about using social media to sell wildlife meat and fish online.
On a Nunavut Territory Facebook page "swap and sell" site, one can find narwhal and whale maktaaq (blubber), caribou meat, arctic char, walrus, and other "country foods" for sale or auction.
The Nunavut Wildlife Management Board recently made a presentation to the Inuit in the high Arctic community of Cambridge bay.
The annual general meeting of the Kitikmeot Inuit Association (KIA) was told by the chairman of the Wildlife Board, Ben Kovic, that the recent practice of hunting and selling "country food" to other communities risks serious depletion of wildlife populations such as the already diminishing caribou herds.
The land claims agreement for Nunavut Territory allows Inuit the right "to sell, barter, or give away, inside or outside the Nunavut settlement area, any wildlife that has been legally harvested" as per Article 5 of the agreement.
Delegates were told of how many boxes of caribou meat were being sold to other regions, even to non-Inuit in the south.
Selling `country food'
The only area where caribou hunting has been restricted is on Southampton Island where the caribou population has dwindled from about 30,000 in 1997, to less than 7,000 now. Overhunting has been blamed at least in part for the decline as meat from that area was being sold to other communities such as on Baffin Island where caribou were becoming scarce.
In 2011, an air-cargo company says 1,500 to 2,000 pounds of caribou meat was being shipped from Coral Harbour on Southampton Island to communities on Baffin Island every other day.
While some said they realize that selling "country food" can be an important source of income, Ben Kovic is reported in Nunatsiaq Online news comparing those who sell wildlife to "bootleggers" of drugs or alcohol and asking those at the meeting to consult with their local hunting, trapping and Inuit associations to take a closer look at the situation.
Other issues discussed at the AGM involved how to deal with drug and alcohol abuse, overcrowded housing, and how to preserve and pass on language and cultural traditions.
Related stories from around the North: 
Canada: Dene elder refuses to pay fine for caribou hunt, CBC News
Finland: Northern Finland bear hunters legally exceed quota, Yle News
Sweden: Bear hunt quota worries reindeer herders in Sweden's Arctic, Radio Sweden
United States: Fuzzy math of Alaska subsistence: Too many people, not enough fish, game, Alaska Dispatch