Uranium mine may be on the horizon in northern Sweden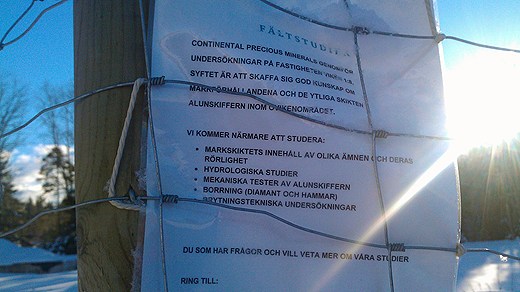 For the first time in a while, an application to open a uranium mine in Sweden may be in sight, reports Swedish Radio news.
The Canadian prospecting company, Continental Precious Minerals, has taken its first step towards doing so after conducting tests in the little community of Oviken in the northern Swedish county of Jämtland.
Residents are not happy about the prospect.
"The whole place looks like Swiss cheese," says Irene Sandberg, who lives in Oviken. "They've made 200 holes in this little area, alone."
Her horse farm lies right on the area where the prospecting company has been drilling for minerals, including the radioactive substance uranium. Sandberg is not worried about radiation, which is negligible, but rather that a large area would be made into a pit with big basins needed to extract uranium, among other minerals. A lot of water would be needed, and opponents to the idea of constructing a mine are afraid that it would contaminate the nearby Störsjön lake, one of the biggest in Sweden.
Continental Precious Minerals is the biggest prospecting company in Sweden, and has had a presence here for the past seven years, primarily in Skaraborg and Jämtland, with more than 70 permits to prospect.
The test results have started to come in and the company has made the first move towards applying for an exploitation concession, but the application is so unusual that the authorities are not quite sure how to handle it.
The company's shareholders recently lost patience and changed out the board. Now, the new board is evaluatuing the Swedish project carefully and deciding whether to go ahead and apply to open a mine, or simply to give up and leave Sweden after seven years of prospecting.
Daniel Arvatsson, who also lives in little Oviken, opposes the idea of the company opening a mine there, but he does not believe the situation would be better if they left either. He believes another company would simply turn up instead.
For more stories from Radio Sweden, click here