Budget in Canada's Northwest Territories 'stays the course'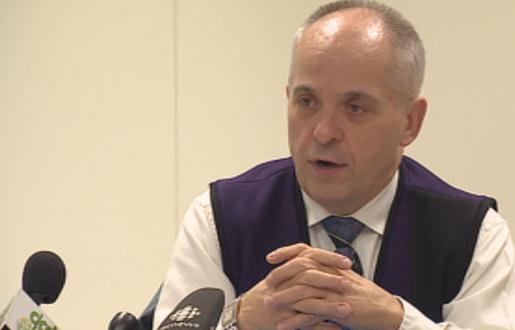 In a budget pretty much an echo of last year's, the government of Canada's Northwest Territories is continuing its mantra of fiscal discipline into 2013-2014.
Finance Minister Michael Miltenberger described it as "staying the course:" controlling expenditures while making necessary investments in infrastructures.
That meant a second year of no new budget day shoes for Miltenberger.
"I've got my trusty old budget brogues on," he said on Thursday, though he pledged to buy brand-new wraparound moccasins for next year's budget speech.
The budget projects a $113 million surplus, with projected revenues of $1.61 billion and expenditures of $1.5 billion, modest increases over last year.
There are no new taxes budgeted, though effective April 1, property tax mill rates and some fees will go up 2.2 per cent as adjustment for inflation.
The Northwest Territories gets about 70 per cent of its revenue from the federal government. The Department of Finance expects territorial financing increases to drop to 2.6 per cent per year over the next three years.
The transfer payments formula is based on the territory's population, which has been stagnant; and spending by the provinces, which have been cutting back.
The government expects a devolution agreement in the near future, with implementation expected by April 2014.
However, the Northwest Territories's fiscal responsibility policy pledges to use the estimated $60 million per year in resource revenues the territory will receive under devolution for paying down debt and investing in infrastructure rather than for day-to-day operating expenses.
In the next two years Miltenberger committed to $50 million more for infrastructure projects and stressed the need to focus on building infrastructure that will help boost the territory's GDP and reduce its reliance on federal transfer money.
Spending highlights for 2013-2014 include:
$142,000 to expand child vaccination programs
$9.4 million to offset N.W.T. Power Corporation rate increases
$7 million to advance the Mackenzie Valley fibre optic link
$247,000 for additional RCMP resources and victim services in Tulita
$449,000 to begin expansion of midwifery program
$700,000 to install energy-efficient wood pellet boilers in multi-unit public housing
$250,000 to add solar electricity systems to two diesel community grids
The budget also pledges to create 29 government jobs outside of Yellowknife, which will include moving 18 Industry, Tourism and Investment jobs from the capital to Hay River.
"Every job outside of Yellowknife is like 10 jobs in Yellowknife," Miltenberger said referring to the Northwest Territories capital city.
Decentralization is key, he said, to "avoid the Yukon model" where the vast majority of the territory's population lives in Whitehorse and its suburbs. The GNWT is budgeted to grow by 53 positions overall.
For more northern stories from CBC News, click here