Renowned annual print collection by Canadian Inuit to launch October 20
The famed annual print collection from the Inuit community of Cape Dorset in Arctic Canada goes on sale Saturday and features both established artists and new names.
There are 34 images in this year's collection with 50 editions of each.
Well-known artists like Shuvinai Ashoona, Ningiukulu Teevee and Qavavau Manumie are featured, along with works of mid-career artists like Padloo Samayualie and emerging artists like Quvianaqtuk Pudlat.
"There's new things but there's still continuity there," Mark London, director of the Galerie Elca London in Montreal, told Eye on the Arctic in a phone interview.
"It makes you wonder, not only how the talent seems to renew itself from generation to generation, but also how much talent has been in hiding."
From local program to worldwide renown
The release of the Cape Dorset print collection has been an annual art event in Canada for decades.
This year marks its 59th edition.
The collection's roots go back to the 1950s when Canadian artist James Houston moved to Cape Dorset, an island community off the southwest coast of Baffin Island in what is now Canada's eastern Arctic territory of Nunavut. (At the time it was part of Canada's Northwest Territories.)
There, Houston taught local Inuit how to draw and make prints of Arctic nature and Inuit life.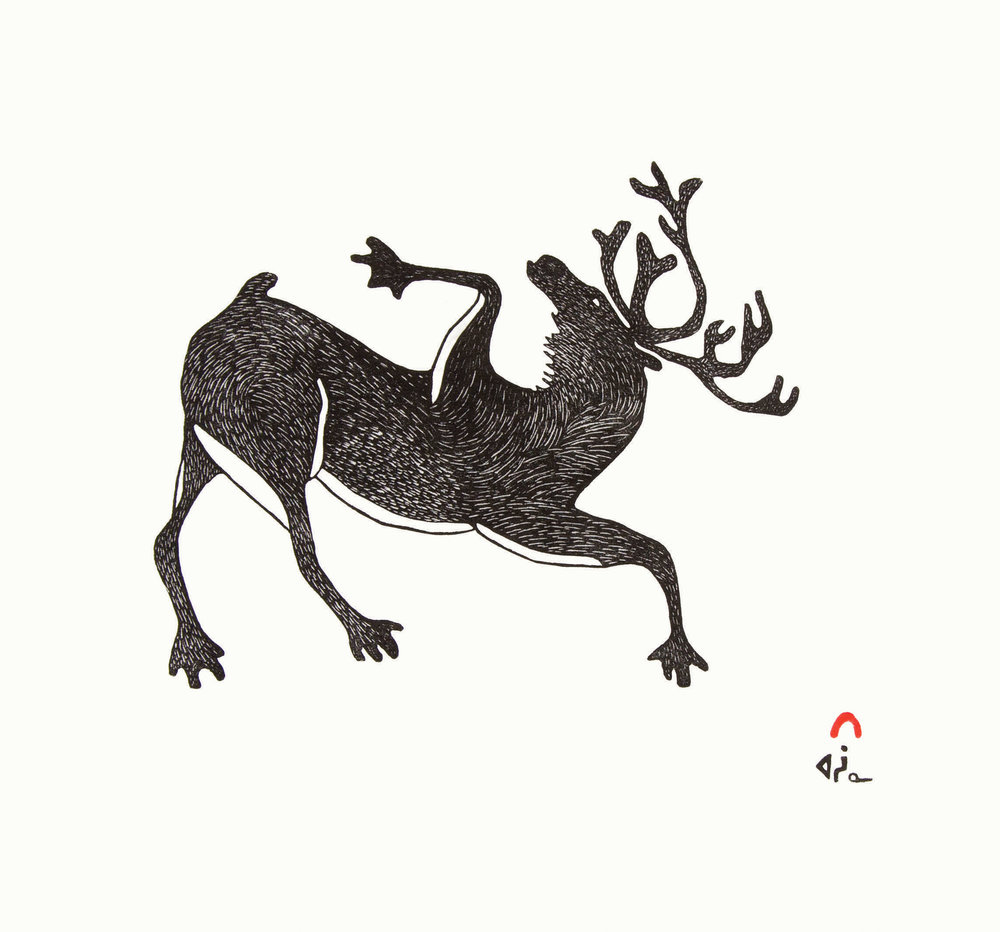 Starting in 1959, the prints produced in Cape Dorset were released in an annual collection. They became a hit in the art world and a favourite of collectors. Several artists who came through the program went on to build national and international reputations.
The best known was Kenojuak Ashevak. Although she died in 2013, she  remains a Canadian superstar for her imagery of  Arctic nature and wildlife, particularly birds. Her work has been replicated on everything from stamps to stained-glass windows to Canadian currency.
Cape Dorset, a community of around 1400,  is known as the unofficial capital of Arctic art in Canada.
The new Kenojuak Cultural Centre and Print Shop officially opened this September to house the print program as well as host lectures, workshops and artist training.
Video Section
To view Eye on the Arctic's in-studio interviews with Inuit artists from Cape Dorset and other regions of Canada, visit our special video section:
The art and artists of Canada's Arctic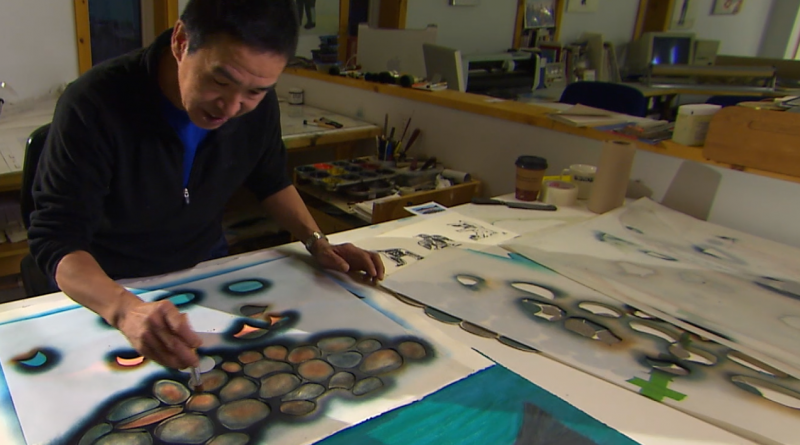 Evolving themes
Prints evoking nature or traditional Inuit life remain the most popular images in the collection. But this year's collection also contains contemporary themes.
"Nature and animals are usually the backbone of the collection," London said. "But I'm looking at a lovely image by Padloo Samayualie called "Kinngait Calling" where it's a lovely etching and aquatint of a telephone pole and the electrical and phone wiring criss-crossing. Within the context of the collection you know that it's an Inuit image, but if you saw it on a wall somewhere divorced from its contemporaries it could be from anywhere.
"It's just a beautiful image on its own."
The collection's worldwide, coordinated opening takes place on Saturday, October 20 at designated galleries in the Canada, the United States, Europe and Asia.
The complete list is on the Dorset Fine Arts website.
Dorset Fine Arts is the marketing arm of Cape Dorset's West Baffin Eskimo Co-operative. The co-operative represents many of the communities artists.
The compete 2018 Cape Dorset Annual Print Collection catalogue is available here.
Write to Eilís Quinn at eilis.quinn(at)cbc.ca
Related stories from around the North:
Canada:  Canadian province of Ontario contributes $96,000 towards update of Inuit art trademark, Eye on the Arctic
Finland:  London gallery offers multimedia Sámi art, Yle News
Greenland: Canadian artist explores Greenland's past, Eye on the Arctic
Russia: Karelian art on show in Russia, Yle News
Sweden:  Swedish Sámi visual artist shaping climate changes, Radio Sweden
United States: National recognition for 2 Alaska artists, Alaska Public Media