Hearings begin into rare earth mine proposal in Canada's Northwest Territories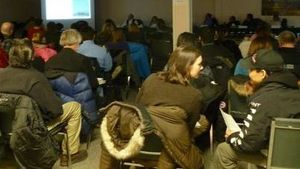 A Toronto based mining company says it can mitigate the effects of a proposed mine in Canada's Northwest Territories.
Monday was the first of two days of public hearings in Yellowknife, the capital of Canada's Northwest Territories, into Avalon Rare Metals proposal for a mine about 100 kilometres southeast of the city.
Rare earth metals are used in cell phones, magnets, and television sets.
The hearings are being held by the Mackenzie Valley Environmental Impact Review Board. It's already heard from the operator of a lodge near the proposed mine site.
Mark Wise, the vice president of sustainability for Avalon Rare Metals, told the board it can deal with the lodge's concerns about noise and light levels.
"We are putting our crushing underground," Wise said.
" As far as light is concerned, again everything is inside buildings in a bit of a valley. And we will have very limited light outside and we will direct it to the ground," he said.
Public hearings into the Thor Lake project continue in Yellowknife on Tuesday and then move to Fort Resolution on Friday.
For more northern stories from CBC News, click here