Residents believe in future of mine in North Sweden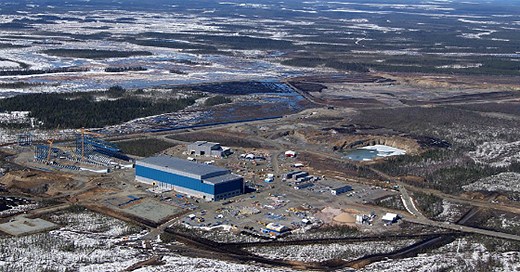 One of Europe's largest iron ore mines, outside Pajala in Sweden's far north, has run into financial trouble in recent weeks.
It started with revelations that the Canadian owned mining company, Northland Resources, had miscalculated their costs to the tune of 2.5 billion krona.
Then this week the Toronto Stock Exchange announced it was delisting the company- Its subsidiaries in Sweden are in corporate reconstruction, a process expected to take three weeks.
However the mine is still in full operation – the first shipment of 40,000 tonnes of ore left the North Sea port of Narvik last weekend, destined for the Indian-owned steel giant Tata in the Netherlands. And many Pajala residents believe that will continue, despite the financial woes of Northland Resources.
Until just three years ago Pajala often featured in the Swedish media as an example of what depopulation does to northern communities.
The town once famously advertised abroad for wives for its ageing bachelors, with little success.
In the last 50 years the population dropped by a half to 6,500 as people moved south for education and jobs.
But that all changed when work at the local mine got underway in 2010.
Depopulation reversed
Now the local mayor, Kurt Wennberg, brandishes proof that the tide has turned – proudly waving the latest population figures which show an increase of 200 last year – mostly young people – and 50 new born babies.
"It feels good…The mine has given us new hope for the future – the possibility to stay here and find work," he says.
"People are starting families here now and building houses. New businesses are opening. Before it was just negative – high emigration – and the people who stayed were getting older and older."
But he says the main challenge is to get people to move to the locality and pay taxes there. Otherwise the fear is that Pajala will become an "oil rig economy" with mine workers flying in an out – and little more development around the area.
At the moment there's little sign of that happening.
The prospect of about 2,000 jobs directly or indirectly created by the mine has led to an upsurge of optimism not easily dampened by news bulletins about the financial state of the company running it.
Too much work to take holidays
"These days you can't even take holidays there's so much work," says Johan Välitalo, a 25-year old carpenter. "This is an old town and everything needs to be renovated and built back up."
Apart from companies directly contracted to the mine, the building trade and hotels have been the biggest beneficiaries so far.
Kent Nilsson, owns a local hotel where a lot of mine workers stay. Canadian accents echo around the breakfast room.
"Just a few years ago young people like my daughter over there wouldn't have even considered staying in Pajala after school – but you don't hear that anymore," he said, explaining that three of his children now work in the business.
'They're even building round-abouts!'
"Since I was small I was used to hearing that this place was going to hell one day or another – but all of a sudden everything changed – now they're even building round-about's here to cope with the traffic!"
Nilsson, like other employers in the hotel and building trade, is finding it hard to recruit workers from the small local labour pool. He's doubled his staff to almost 30 in the last two years.
Hossein, originally from Egypt, moved here from Luleå to work at the hotel.
"I was looking for work and got an opportunity here. I think I will stay," he says. "But they need to build more – it's very small – it needs more people, more shops and cafes for people find it attractive to move here."
Housing shortage
So far the pace of building has been slow – and without good affordable accommodation and other amenities it may be hard to convince miners or entrepreneurs to locate their families in the area.
A new apartment in central Pajala can set you back about SEK 2 million as the building costs are as high, or even higher than the rest of Sweden.
"We're working a lot with housing. There are 1,300 on the waiting lists and we're gradually building more, and getting in private developers," says the mayor, Kurt Wennberg.
"There's a lot of other development needed here too, roads, a new waterworks, a new school, daycare centres."
No to mining tax
Wennberg has called on government to help fund the infrastructure needed to accommodate more people – an estimated SEK340 million over the next three years.
The local council's usual investment budget is just SEK17 milllion.
But unlike the majority of Swedish mayors in mining areas, Wennberg is against the idea of raising the mining tax. Mining companies pay a mere 0.2 percent tax in Sweden, compared to 30 percent in other mining countries like Australia. He says it would not be viable given the huge investments needed to get the mine started.
And what about a B-plan for if the mine goes bust? Few Pajala residents, including the mayor, think that is likely.
"It's hard to see that happening. The mine will always be there, you can't move it someplace else" he says.
"There's a modern mining instillation, a transport system – the ore is being shipped out already. And the world is crying out for more ore. Everything is in place for a mining operation to continue here – and it could last a hundred years or more."
To listen to the full report, click here:
Write to Tom Sullivan at tom.sullivan(at)sr.se
For more stories from Radio Sweden, click here