Company buys Ekati mine in Canada's North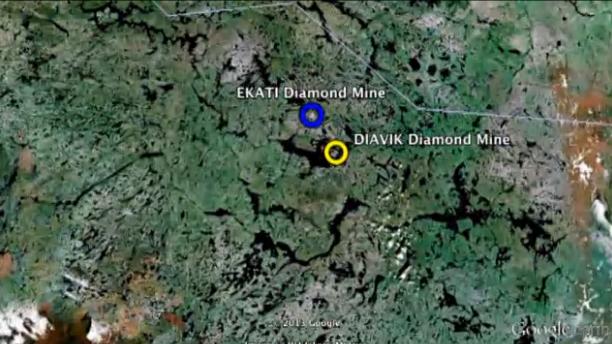 The Dominion Diamond Corporation became the first Canadian company to hold a majority share in a diamond mine after it acquired 80 per cent interest in the Ekati mine  in Canada's Northwest Territories on Wednesday.
Dominion Diamond Corporation, formerly Harry Winston, bought the shares from BHP Billiton in a deal worth just over half a billion dollars.
"We are looking to try and build a diamond company here," said Dominion Diamond CEO Robert Gannicott. "We want to build something with lifetime and strength to actually be able to be a serious player, not just in the Northwest Territories but in the world diamond industry."
The sale gives the Toronto-based company a significant share of Canada's diamond industry. It already owns 40 per cent of Rio Tinto's Diavik mine — Ekati's neighbour.
The company said it plans to move its head office to Yellowknife.
The Ekati sale also includes BHP's diamond sorting and sale facilities. The company said the sale will have no impact on jobs at the mine or staff at Ekati in Yellowknife and Antwerp, Belgium.
The sale will not change impact benefit agreements with aboriginal groups or socio-economic agreements with the government of the Northwest Territories.
While the mine is only expected to have another seven years of production left, the deal also includes rights to some prime diamond real-estate around the mine and Dominion Diamonds says it hopes to be able to cash in on new discoveries in the future.
Related Link: