Conoco's Arctic drilling program on hold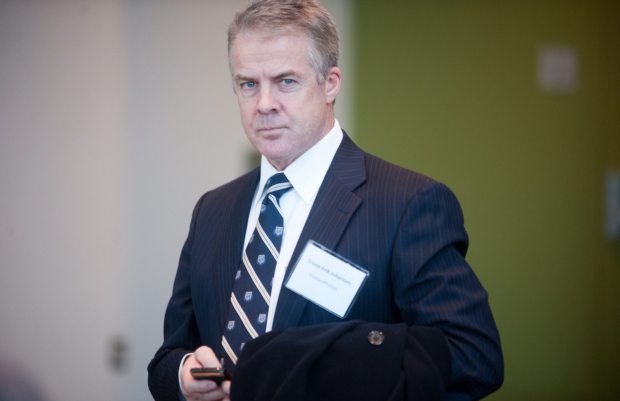 Not long after Royal Dutch Shell said it would "pause" its Arctic Ocean drilling program, ConocoPhillips Alaska announced early Wednesday that an uncertain regulatory environment has forced the company to put the brakes on exploratory drilling it planned for next summer.
The news is consequential for Alaskans hoping new discoveries will replenish the dwindling flow in the trans-Alaska pipeline, the 800-mile long corridor shipping black crude that funds most state government services.
The announcement means there may be little oil activity on Alaska's outer-continental shelf this summer, in part because other companies, including Norwegian oil giant Statoil, have followed the lead of Shell and Conoco.
A recent Interior Department report calling on industry and government to develop guidelines for offshore drilling in federal Arctic waters will allow Conoco to help clarify offshore drilling requirements, Conoco said.
Conoco in the Arctic
In 2008, Conoco won the right to lease 98 tracts in the Chukchi Sea. It spent $500 milllion for them, said a Conoco Alaska spokeswoman, Natalie Lowman. The company has spent another $650 million assessing the potential.
In early 2012, Conoco submitted an exploration plan and an oil spill response plan to federal agencies for review, but learned that requirements had changed, she said. Regulators sought more information and Conoco went back to the drawing board. One change required two drilling rigs on site – a primary drilling rig, as well as a relief rig that could help stop an oil spill — rather than just one rig, Lowman said. Another requirement meant that Conoco needed to specifically identify  all the rigs, vessels and oil spill response equipment it would use, she said.
That meant Conoco had to contract that equipment now for the summer of 2014, and the company wasn't ready to make that costly commitment, given that other regulatory and permitting changes may be coming, Lowman said.
"We welcome the opportunity to work with the federal government and other leaseholders to further define and clarify the requirements for drilling offshore Alaska," said Trond-Erik Johansen, Conoco Alaska president. "Once those requirements are understood, we will re-evaluate our Chukchi Sea drilling plans. We believe this is a reasonable and responsible approach, given the huge investments required to operate offshore in the Arctic."
The report followed Shell's blunder-filled inaugural season of Arctic exploration, capped by the grounding of the Kulluk drill rig near Kodiak during a powerful winter storm.
Politicians react
Reaction to the announcement was swift.
"I am disappointed that the federal government's unstable regulatory environment has led Conoco to make this business decision," Gov. Sean Parnell said. "The federal government's inability to provide regulatory certainty is once again reducing jobs and economic opportunities for Alaskans."
The statement also said Parnell was encouraging Conoco to invest more in state lands.
Alaska Sen. Lisa Murkowski also blasted the feds.
"Companies can't be expected to invest billions of dollars without some assurance that federal regulators are not going to change the rules on them almost continuously," she said in a statement. "The administration has created an unacceptable level of uncertainty when it comes to the rules for offshore exploration that must be fixed if we're going to end our dependence on oil from the Middle East."
Evaluating risk
The Alaska Wilderness League said industry and the government need time to figure out the next steps, because the risks of drilling in the undeveloped Arctic are extreme.
"This pause is a real opportunity for President Obama to revisit his position on Arctic Ocean drilling," said executive director Cindy Shogan. "With no infrastructure or ability to clean up an oil spill in ice, and Shell's extensive laundry lists of mishaps and failures, it is a no brainer to suspend drilling in the Arctic. If President Obama truly wants to address his climate change legacy, saying no to Arctic Ocean drilling would be a huge first step."
She added: "Today's announcement from ConocoPhillips is further proof that no oil company is ready to drill in the harsh and unpredictable environment of the Arctic Ocean."
But Conoco said its delay was not due to a lack of preparation on its part.
"While we are confident in our own expertise and ability to safely conduct offshore Arctic operations, we believe that more time is needed to ensure that all regulatory stakeholders are aligned," said Johansen.
Contact Alex DeMarban at alex(at)alaskadispatch.com