Police wives at remote Canadian posts honoured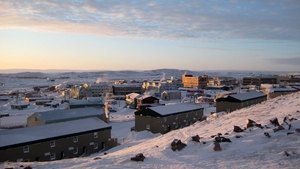 The Royal Canadian Mounted Police (RCMP) are celebrating a time in its history when the "second man" at many remote police outposts was actually a woman.
A ceremony on Friday recognized 23 women who supported their husbands' careers at isolated and one-man posts, primarily in Western Canada and the North, from the 1940s to the 1970s.
Bob Kells, president of the RCMP Veterans' Association Calgary and a retired superintendent, said it was common during that time for areas that were geographically large but with sparse populations to be policed by a single officer. Wives became a second pair of hands.
"These women provided such services as answering the door and the phone, taking messages, cooking meals for prisoners, cleaning the office, typing reports and answering the radio," Kells said at the event in Calgary.
"For all those years that these women provided this invaluable service, they were never formally recognized. They provided the service out of loyalty to their husbands."
The North
Lynn Armstrong, 71, moved to six different communities in Canada's North with her husband, Jim, from 1966 to 1979.
She remembers the communities of Fort Resolution and Fort Smith in the Northwest Territories and Dawson City and Whitehorse in Canada's northwestern Yukon territory. Her worst memory is of Frobisher Bay, now known as Iqaluit, in Canada's eastern Arctic  territory of Nunavut.
"It was barren and there was hardly any summer. The kids walked and came home in the dark," Armstrong said.
"You were totally isolated. There was no way in or out and you got a year's supply of groceries on the ship."
Profiles
In 2004, Ruth Lee-Knight compiled some of the stories about Mountie wives in a book called "When the Second Man Was a Woman."
The 21 profiles focused on wives, including her mother, from RCMP detachments in the prairie province of  Saskatchewan.
"That term 'second man' was coined by members of the force. It was just sort of a humorous take," said Lee-Knight, who married an RCMP officer herself.
"They would refer to the wife of the man in charge, the only man there, as the second man. It just became folklore."
RCMP Commissioner Bob Paulson presented "second man" commemorative brooches Friday to the women. He said it's about time their stories came out.
"Nobody knows about it and it's high time we do. The problem was how to approach it," said Paulson.
"Nobody wanted money. What they wanted was recognition and I think events like this one go a long way to satisfying that expectation," he added.
"These are remarkable stories to have these women being jailers and sometimes taking statements and sometimes talking to suspects and waiting for their husbands to show up, so they can be arrested."
So far 470 women have been identified to receive the brooches.
Paulson said Friday's ceremony was the first of many to be held across the country.