Company wants to stop Nunavut mine review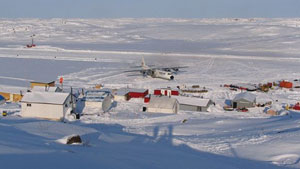 The company behind the Izok Corridor project in Canada's eastern Arctic territory of  Nunavut is asking for a halt to the environmental review, even though the process has barely begun.
MMG said it is considering changes to its plans for the proposed base metals mine.
Last week, Nunavut regulators were given the go-ahead to begin the review. Now, MMG is asking the Nunavut Impact Review Board to wait while it re-considers the project design.
The company's original proposal was submitted in August.
MMG said it is looking to change the mining schedule and production rates, and possibly expand the project to include a site at Hood Lake.
The company added that it will consult with communities and stakeholders before submitting a new project design to the review board.
MMG had been proposing to mine for zinc, copper and lead at a site about 200 kilometres southwest of Kugluktuk.
Related Links: