Brace yourself: More Alaska reality TV on the way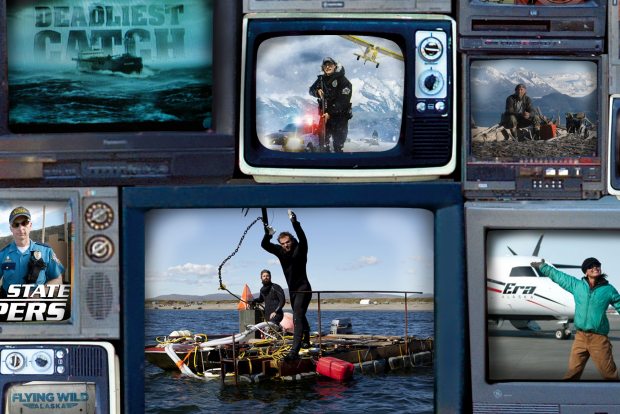 When the second season of the popular reality TV show "Bering Sea Gold" debuted earlier this year, it was clear the season was leading up to one defining moment: the death of a cast member. For months, advertising played up the eventual death of cast member and diver John Bunce, who died of a self-inflicted gunshot wound in September. Ads throughout the season showed crying cast members and funeral arrangements, and early advertising went so far as to suggest the cast member had died while diving, while keeping the identity of the deceased a secret as a tantalizing teaser for viewers of the program hungry for drama.
While many today bemoan the heavily-edited nature of "unscripted" programming like "Bering Sea Gold," something like the death of a cast member is one of those things that just can't be predicted at the outset of a season of filming. It raises questions about the merits of treating a suicide in the state with the second-highest suicide rate in the nation like a marketing ploy — and at the same time, the potential self-censorship of not showing it.
After all, it is supposed to be "reality TV," isn't it?
And with "Bering Sea Gold" just one of many programs cashing in on Alaska's lucrative film tax credit program, it leads to the inevitable question: is it good for Alaska?
(Much) more reality TV on the way
If the world were ever going to get sick of reality TV out of Alaska, the upcoming year could be the one to demonstrate it. Announcements from the Discovery family of networks — including TLC, the Discovery Channel and Animal Planet — are heavy on Arctic and Alaska-themed programming for the upcoming 2013-2014 season. The ninth season of the hit "Deadliest Catch" premiered Tuesday. "Alaska State Troopers" on the National Geographic Channel is still going strong. The second season of "Bering Sea Gold" wrapped up less than a month ago, and it's coming back for more, with a third season in the lineup.
Among the Alaska-based or Alaska-centric shows coming out:
 "Wild Alaska": A special airing on Animal Planet documenting Alaska wildlife, including polar bears on the state's north coast and animals in Denali National Park and Preserve.
 "Alaska Bush Family": A new series following Billy and Ami Brown and their seven children, living in the Copper River Basin in the tradition of Alaska homesteaders.
 "Alaska Women Looking for Love": Thankfully, this is just a working title for a series that plays into the old adage about Alaska's off-kilter ratio of men and women — "the odds are good, but the goods are odd." Five women are taken from Alaska to what TLC is referring to as "distant shores" — in reality just Miami, Florida.
 "Great Bear Stakeout": Another one-off wildlife documentary that follows a number of Alaska bears over the course of several months.
 "Alaska: The Last Frontier": Another show about an "off-the-grid" Alaska family, this time the Kilchers, based near Homer. Despite taking place on the relatively populated Kenai Peninsula, "they must hunt, gather, garden and raise livestock in order to provide enough food to ensure their family's survival," according to press material.
 "Ultimate Survival Alaska": In which several Alaska "survivalists" are dropped in remote locations with a goal of getting to a destination alive. Among the cast? 2012 Iditarod winner Dallas Seavey and his brother Tyrell. This is a serial program that is set to begin airing in May on the National Geographic Channel.
 "Wild West Alaska": A continuing series about Wild West Guns, based in Anchorage, which features custom firearm builds and a cast of "colorful characters."
And that's without even mentioning Arctic-themed shows like "Ice Cold Gold" set in Greenland, or "Polar Bear Crossing" set in Churchill, Canada, or other shows about resource extraction, like "Gold Rush," or potential programs like the paranormal reality show for which a casting call went out less than three weeks ago .
With a lineup like this, it should come as no surprise that the vast majority of productions taking advantage of Alaska's film tax credit program are reality TV. Of the 16 productions that have qualified for a state tax credit since the fiscal year began in July, 11 are either reality television or documentaries. The rest are commercials.
The film tax incentive program provides a tax credit to a production company — usually a limited liability corporation created specifically to operate in Alaska — that can then be sold to any company with a tax liability in the state. In 2012, the Alaska Legislature authorized the program to distribute up to $200 million in tax credits over the course of the next 10 years, if it doesn't run out of money first.
Not a single feature film — the glitzy side of the film tax program, and the one that the incentive is primarily intended for, given the extra-high production costs associated with such productions — has qualified for a credit in the most recent fiscal year. The last major feature film to actually see Alaska production was "The Frozen Ground," which completed filming all the way back in 2011.
Being proactive
Reality TV is a lot less glamorous than the world of feature films. There are no movie stars in reality TV, just rough-and-tumble folks with big personalities. Production costs are low. That means the tax credits paid out to such programs are also lower, but so is the amount of money that productions — not to mention Outside cast and crew members — are spending during their time in the state.
To that end, the state has taken matters into its own hands at least a little, including sending representatives to industry meetings and conventions in hopes of pitching Alaska as a filming location. But even with a location as scenic as Alaska, that can be a battle, said Caryl McConkie, a development specialist with the Alaska Department of Commerce, Community and Economic Development.
"There are so many locations out there that promote themselves as a 'substitute location,'" McConkie said. "For example, Toronto will bill itself as being like 'these types of locations' — like New York City."
With other locations competing on the "scenic" factor, Alaska has to stand out in other ways, she said. Which is where the film tax program comes in. But there, too, it's hyper-competitive.
"The prevalence of tax credits out in the market is such a strong and compelling argument in the business — it's the bottom line, really," McConkie said.
She added that there's still "great interest" in Alaska as a filming location, and that the film office regularly fields calls from producers and companies interested in possibly filming in the state.
Perhaps more significantly, the state has attempted to develop its own scripted television series, under the umbrella of the Alaska TV Pilot Project. That program, formed with a capital grant, assembled several well-known Alaska writers, including novelist Andromeda Romano-Lax and former Alaska Dispatch writer Doug O'Harra.
They've come up with several ideas for television series in hopes of developing a pilot and bringing a long-running serial to the state, which would ensure jobs for crew members over most of the year, according to Mary Katzke, a writer and filmmaker who is spearheading the project.
"When a film comes to Alaska, everyone has to drop their day job in order to work on it, and that's a hard decision to make, because you know the film is temporary," Katzke said.
TV, on the other hand, films for 8 to 9 months every year and has the potential to return for filming year after year, she said, which makes it appealing for those trying to break into the industry in the state.
The members of the Alaska TV Pilot Project have been proactive on their own in attempting to pitch their ideas, which Katzke said consists of "12-14 projects" that are ready to be considered, from a drama about a boxing promoter in Anchorage to a story of a TV actor who ends up performing dinner theater at a wilderness lodge. The group bills it as "Glee meets Northern Exposure."
The group has attended industry events like the National Association of Television Program Executives convention in hopes of pitching their ideas, but Katzke said it's been slow going.
"We were kind of at the bottom of the totem pole there, however we did make a couple of critical connections," Katzke said. Producers "are a little leery because they're not sure how it would be filming in Alaska.
One of those connections, she said, is now looking at coming up to Alaska next month to visit, with an eventual goal of filming an independent movie — in the $1.2 million range — that would go direct-to-video.
"It's a pretty simple script, just a high school romance story," Katzke said. "To test the waters. Their goal is to shoot that this fall, and if everything goes well, then we're going to move on to the next phase and begin to develop one of the television series."
Good for Alaska?
So there appears to be a glimmer of hope on the horizon for Alaska's stalled-out movie biz. In the meantime, though, it's all commercials and reality TV, for as far as the eye can see.
Katzke doesn't see that as an entirely bad thing. "I think if you look around at other film incentives, successful ones, you'll probably find that the first ones to take advantage are the reality shows," she said, adding that the entire reality TV concept is more portable than a large-scale production. "The one who really gets exploited in that equation is the talent."
The Alaska Film Office, which oversees the film tax program, has the discretion to deny a production company a tax credit if it's not in the financial interests of the state — for example, if the production wouldn't employ enough Alaska workers, or has a history of abusing the program. But previously, it hasn't had any direction to deny a credit based on potentially making the state look bad.
Reality shows have proven to be very profitable for networks," Department of Commerce Spokeswoman Dru Fenster said in response to a question about whether there was any concern over how some reality shows portray Alaska. "We have heard there may be concerns, but those are best addressed with the industry. Our job is to valuate productions based on the best economic returns for Alaska."
That may change soon, though: the film tax program is being moved from the Department of Commerce to the Department of Revenue beginning in the next fiscal year. At the same time, a new "Alaska Film Incentive Review Commission" will go into effect, looking over each potential production applying for a film tax credit and determining whether it will represent the state's best interests.
That commission — staffed by some of the state's highest-ranking administrators, including the commissioners of the Departments of Natural Resources, Labor and Workforce Development, Commerce and Economic Development and Revenue — will take into account things like whether a production could negatively impact development of the state's natural resources and whether it's good overall for the film tax program.
It doesn't make specific mention of denying a tax credit for "quality control" purposes, to help the state's perception around the rest of the U.S. And then there's the inevitable question of whether denying a credit based on the state's opinion of a production would amount to censorship.
Elizabeth Bluemink, spokeswoman for the Department of Natural Resources, said that the Department of Revenue is in the process of absorbing the film tax program, and there's been little progress made as far as the commission and the exact criteria it would use to judge a film. Eventually, DNR Commissioner Dan Sullivan would be among those who sit on the commission.
Since the commission has yet to even meet, it's not clear what direction it will take to approve or deny tax credits.
But reality TV presents a prickly problem, even with the potential for extra layers standing between it and a tax credit. There's no doubt that "Bering Sea Gold" promotes development of Alaska's resources, and on paper, the series sounds mostly harmless, following a group of gold dredgers over the course of a season, chronicling their professional and personal tragedies and triumphs.
In the end though, it is real life, and an incident like the death of John Bunce in the second season of "Bering Sea Gold" isn't something that the commission would see in the initial story pitch. Ultimately, the perception of Alaska through reality TV is subject only to the whims of the characters — the Alaskans — themselves.
Contact Ben Anderson at ben(at)alaskadispatch.com