Flooding in western Finland moving North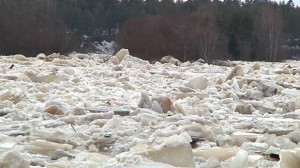 Massive flooding in western Finland appears to be moving further north, as melting winter ice dams rivers and causes overflows in local areas. However the reprieve may be short-lived as meteorologists predict more rain Tuesday.
Currently the Kiiminki and Simo rivers pose the greatest flood risk to surrounding areas. Further south, hundreds of hectares of plains are under threat of inundation by the Kyrö river.
Water levels are also rising in the northern Satakunta region, threatening scores of summer cottages, dwellings and the Siikainen sports hall.
Slightly south of those areas, ice dams in the Pyhäjoki have been broken up, allowing overflows to subside.
Meanwhile rains forecast for the west Tuesday are likely to complicate anti-flooding efforts in Ostrobothnia and southern Lapland, Finland's Arctic region.
According to the Eveliina Tuovinen of the Finnish Meteorological Institute, residents in the west can expect 1 – 5 millimetres of rain Tuesday. Precipitation on the order of  5 – 10 millimetres is expected in northern Ostrobothnia and southern Lapland.
"It won't help the flooding situation, at least. More rain is expected in the flood-prone areas," Tuovinen added.
The precipitation is likely to shift eastwards on Wednesday, following which temperatures should rise to around ten degrees Celsius.
Environmental expert: More rain next week
Bertil Vehvilainen, senior hydrologist for the Finnish Environmental Administration Syke, said that the rains forecast this week should not materially affect the flooding.
However he pointed out that next week the situation could take a turn for the worse.
"What worries is more that there may be even heavier rains before May Day and on May Day, and this is still very uncertain. They may clearly cause new flooding in parts of Ostrobothnia," Vehvilainen added.
He stressed that the outlook was still wide open.
"These are guesses, but the biggest rain fronts are so large, that it would be worthwhile to prepare for them by draining reservoirs or leaving room for additional flows.  The average rainfall forecasts aren't that bad, but the maximum is considerable," he concluded.