Glass recycling gains momentum in remote Alaska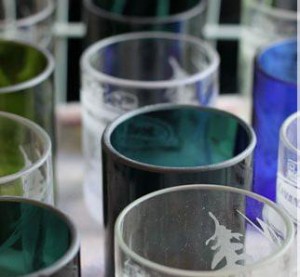 As people around the world celebrated by planting trees for Earth Day, Alaskans staring at frozen ground can at least bask in the fact that recycling is slowly making strides in the 49th state.
For about five months now, residents of Anchorage have been able to drop off their glass in Alaska's largest city. Glass recycling was a long time coming for many guilt-stricken Anchorage residents, who, without a choice, ended up throwing big, heavy bottles in the trash. The fact that glass made up only a small portion of the waste stream didn't seem to matter. Since November, monthly collection quantities have doubled to 70 tons of glass per month, according to figures from the city. It all goes to Anchorage's Central Recycling Service, which processes the glass into a pea gravel form used for construction projects — with applications in pipe bedding, trench backfill and road base.
While Anchorage has finally figured out glass recycling, other groups across the state are figuring out what to do with their glass. Recycling anything in Alaska is a tricky prospect, since all recyclables must be shipped out of state to larger processing facilities in the Lower 48.
Glass is particularly troublesome. It's heavy and messy to ship. Plus, glass is an abundant resource, and the market for recycled glass is limited.
But a recycling success story has quietly unfolded on the Kenai Peninsula, where glass has been collected since at least 1992 and used to make improvements to the regional landfill. The glass stays on site, but instead of going into the ground, it is reused in projects around it, according to borough Solid Waste Director Jack Maryott.
Maryott said the landfill, located in Soldotna, has poor soil. When the landfill needs a stable base layer, it uses glass, crushed simply with a bulldozer, as the base material instead of bringing in gravel.
Last year, the borough recycled approximately 460 cubic yards of glass at the central landfill, roughly the equivalent of 46 standard dump trucks.
While not having to purchase gravel saved the borough some money, the program only works because of the local use.
"If we didn't have that need, it could be a struggle to sustain that program," he said.
Fairbanks, too, has been inundated with its glass. According Michele Hebert, director of the University of Alaska Fairbanks office of sustainability, said the university collected 530,000 pounds of glass on campus. That's up 32 percent from last year.
Helping keep the number up is a recycling center located close to a busy transfer site on campus.
Hebert said that glass gets transferred to K and K Recycling in North Pole, which is storing it for now. She noted that the increase in recyclables collected in Fairbanks is telling. Since 2010, the university has collected 1.6 million pounds of recyclables.
"Everybody wants our community recycling," she said. "The reality is, why are all these people driving (to campus)? They want to recycle."
Contact Suzanna Caldwell at suzanna(at)alaskadispatch.com
Related Link:
Northwest Territories, Canada: Community focus sets glass recycling business apart,  Eye on the Arctic (Radio Canada International)