Bus service to better connect Alaska communities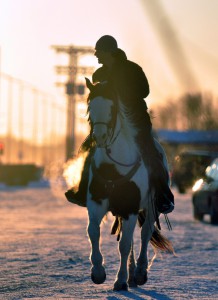 With a state as sprawling and vast as Alaska, it makes sense that not every community would have access to public transportation. While snowmachines and Bush planes serve as primary transportation for much of the state's rural areas, even along "the road system" — Alaska's informal name for communities that are connected to the state's major transportation corridors — accessing each other can be a challenge.
On Monday, Schlueter Services, Inc. will begin offering public transportation between Wasilla and Fairbanks. It bills itself as the first year-round, round-trip intercity public transportation link on the Parks Highway. And while it may be the first of its kind in a while, the co-owners of the new service hope to offer a missing link that's not currently fulfilled by tour buses, transit or taxi cabs.
"We want to work with communities and have complementary services to the offers that they have," said Jenny Cox, a Schlueter Services co-owner.
Connected, but far apart
Despite a well-documented rivalry, Anchorage and Fairbanks — Alaska's two largest cities — are intimately connected. People visiting families or others on business often make plenty of trips between the two communities.
But it's no easy trek: they're 360 miles apart on the Parks Highway, or about six hours one-way on the when road conditions are good. For comparison, a trip from Chicago to St. Louis is shorter. And there are few communities or services between the two major cities. Those that are along the highway are small and sparse, with at least one hundred mile stretch — from Cantwell to Trapper Creek — that's almost completely uninhabited.
There's plenty of daily plane routes between the two cities, those can be expensive. A ticket between the two communities for less than $200 round-trip is considered a steal.
While the Interior Alaska Bus Line provides a bus route from Anchorage to Fairbanks, that route uses the Richardson Highway while also connecting with the small communities of Tok and Northway. The Richardson trip is also significantly longer, at 428 miles — an eight hour drive at minimum.
Initially, Schlueter Services will be offering tickets between the two communities for $99 each way, with half trips and quarter trips available at a reduced cost.
Public transit brainchild
Schlueter Services is the brainchild of several corporate partners that include Wes Schlueter and husband-and-wife Tony and Jenny Cox. For years, Schlueter has operated a transit between the small Native village of Chickaloon and Palmer, a population center in the Matanuska Valley.
Schlueter, realizing there was no public transit between Fairbanks and Anchorage, connected with the other members and decided to come up with a plan to transport others up the highway.
Together, the group purchased four school buses and have spent the last year refurbishing them, making them more comfortable for public transit passengers. The group is using a bumblebee as its mascot, an ode the already yellow and black buses.
The school buses are better to make the long journey, Jenny Cox said. They have a higher clearance than traditional transit buses, making it easier for them to navigate the ice heaves and inclement weather often found on the route.
The trickiest part of figuring out the route will be coordinating with bus stops. Cox said the company is working with stops along the way. Warm shelters will be necessary, given the chilly sub-arctic conditions.
"We have to make sure that we are keeping the safety aspects in mind as well," she said. "We wouldn't have a flag stop along the middle of the road."
Part of a larger plan
The bus service is worked into part of the Statewide Long Range Transportation Plan that dictates what the state's vision and policy will be in developing statewide transportation planning and development through the year 2030.
Debbi Howard, Alaska transit coordinator with the state Department of Transportation, said Schlueter Services, Inc. isn't directly listed in the plan, but that the work they do will fit into the state's overall goal of providing better transportation links between small Alaska communities.
While tour companies have been traveling the highway for decades — most headed straight for Denali National Park — that's often not a realistic route for regular commuters to take. The trip is  expensive and operates seasonally during summer months.
But Schlueter Services will find its own niche, Howard said, especially as other transit along the route begin to tie in with them.
"Things will undoubtedly change as the corridor gets used to them," Howard said.
Bus service is set to begin Monday. For more information, contact Schlueter Service at gotbusak@gmail.com or call (907) 715-2517.
Contact Suzanna Caldwell at suzanna(at)alaskadispatch.com