Geologists to test mineral exploration by air in Nunavut, Canada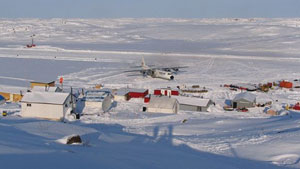 Federal geologists are planning to test a new method of mineral exploration this summer in Canada's eastern Arctic territory of Nunavut using data collected remotely.
The project will determine how effectively data collected by satellite or aircraft can guide exploration. By measuring reflected light, geologists can get a better idea of what minerals they might find beneath the surface in remote areas.
"Most mineral deposits that are exposed on surface, the easy stuff has been found over say the last 100 years, and certainly 50, 60 years in the North," said Jan Peter, who is leading the project for the Geological Survey of Canada.
"It's now the harder stuff. And that's basically the premise of this project, to try and develop tools that are not in the mainstream in mineral exploration in northern Canada."
Peter says the method, called "optical spectroscopy," has been used elsewhere in the world.
He said the advantage is that it allows companies to do preliminary exploration work, without the expense of going to a remote area and setting up camp.
"What we want to do is have a first-pass method which is basically no boots on the ground, very cost-effective…. So we're seeing this, in an ideal sense, that this method will be kind of a benign or 'green' method — nobody has to go on the ground, nothing gets disturbed," Peter said.
Researchers will focus their work this summer in the Izok Lake area of Nunavut's Kitikmeot region. It was chosen because there are known reserves of base metals there, so scientists can compare the remotely-collected data with what's seen on the ground.
The Izok Lake area was also chosen because there is a lot of bare rock. Peter said vegetation can interfere with remote data collection.