U.S. Coast Guard shifts Arctic operations west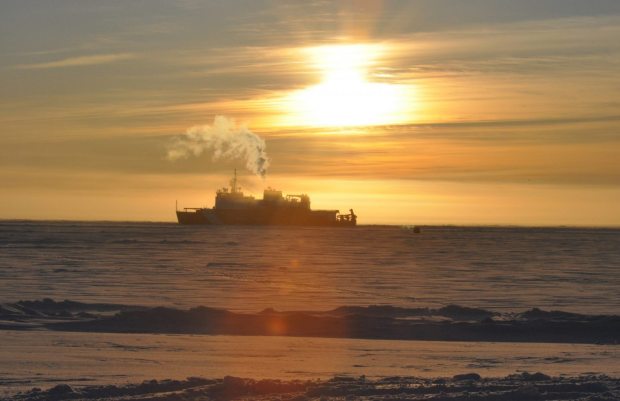 The U.S. Coast Guard unveiled a westward-leaning 2013 Arctic Shield operations plan Thursday, emphasizing its commitment to a region facing increased traffic and scrutiny.
The Coast Guard will have a number of assets in the Arctic this season — including two ice-breaking vessels, thePolar Star and the Healy — as well as a National Security Cutter.
The biggest change will be designating the northwestern town of Kotzebue as the Guard's Forward Operating Location, serving as the staging area for a Coast Guard helicopter and its crew. Last year, the Coast Guard operated out of Barrow, on Alaska's northern coast and closer to the Beaufort and Chukchi seas as Royal Dutch Shell began drilling operations in those areas.  After the grounding of the Kulluk conical drilling unit near Kodiak Island, Shell decided to sit out this summer and work on repairing its rigs.
The focus for this year's operation will be understanding traffic on Alaska's west coast and through the 50-mile-wide Bering Strait, according to Coast Guard spokeswoman Veronica Colbath.
The region has witnessed increased traffic in recent years. Last year there were 480 transits of the Bering Strait, up from 220 in 2008. Colbath said better understanding of that traffic, and how to prepare for any potential incidents, is important to understanding the Arctic.
"We're going to maintain a constant presence in the Arctic," Colbath said. "We're just utilizing resources a little different."
During last year's Arctic Shield, the Coast Guard conducted training exercises designed to test its oil-spill recovery systems.
Colbath said that this year's Arctic Shield shifts the focus of the Guard's Arctic operations to western Alaska, where it can by maximize the use of existing infrastructure.
Like other federal agencies, the Coast Guard has absorbed budget cuts under federal sequestration. Part of the reason it picked Kotzebue as its forward-operating location was to utilize an Alaska National Guard's hangar there.
The Coast Guard has no permanent infrastructure in the Arctic.
"We're trying to balance some of the budget constraints," Colbath said. "But we are committed to deploying the right mix of resources to the Arctic."
With sea ice melting, shippers are looking to the region as a possible international route. Last year, 250 vessels had a presence in the Arctic, up from 190 in 2011.
Colbath didn't have any official numbers on the expected traffic in the Arctic this season, but that even without the Arctic drilling by Shell, she suspects that traffic in the region will increase.
"The Arctic is a vast region," she said. "We're still learning where we can be strategically be positioned to be most effective.
"(Arctic Shield) is definitely about lessons learned."
Contact Suzanna Caldwell at suzanna(at)alaskadispatch.com