Elders removed from Alaska town after 'major flooding'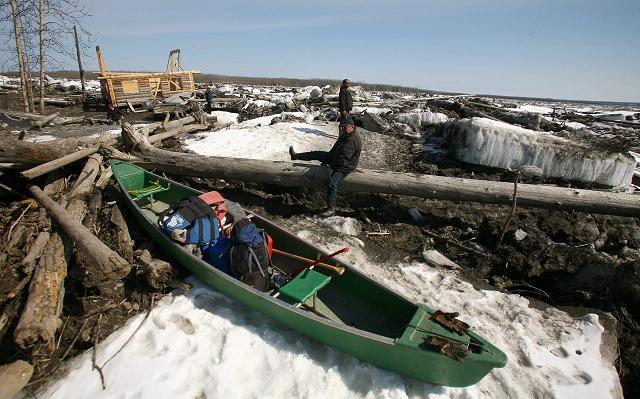 Elders were being evacuated late Monday as "major" Yukon River flooding swept through the town of Galena, Alaska.
"A plane is heading from Fairbanks to Galena to evacuate vulnerable residents such as medically fragile elders," wrote Jeremy Zidek of the Division of Homeland Security and Emergency Management in a press release. "The road to the runway is flooded, but the community is ferrying people through the flooded area."
Both the U.S. Air Force base at Galena and the old Galena school sit on higher ground and are being used as emergency shelters.
"The old town is flooded along with other areas of the community," Zidek said.
Hopes that a big Yukon River ice dam downsteam of Galena was disintegrating were dashed earlier Monday. Homeland Security acknowledged that the water level of the Yukon had dropped two feet by early evening, but levels have fluctuated for 24 hours.
The ice dam, some 25 miles downriver from the town of 470, "appears very solid and a significant amount of water is backed up behind the ice jam . . . causing major flooding in Galena. Flooding is possible (farther downstream) at Koyukuk and Nulato when the ice jam releases," according to a news release from the Alaska-Pacific River Forecast Center.
The jam was in a place called Bishop Rock where the Yukon carves a big "S" turn and tends to clog with ice during breakup.
"As of Monday evening, the ice downstream of Koyukuk and downriver toward Nulato looked relatively solid. Additional ice jams and flooding are possible when the ice jam at Bishop Rock releases.  Flood watches through Tuesday afternoon have been issued for both Nulato, population 270, and Koyukuk, population 100.
Across rapidly warming Alaska, where the temperatures routinely exceeded 70 degrees this weekend at many Interior locales, several flood watches and warnings were issued by the Alaska-Pacific River Forecast Center.
• In Buckland, a warning is in effect through 9:30 a.m. Wednesday after the Buckland River rose 4 feet in a few hours on Sunday, flooding low-lying homes.  As the river ice continued downriver on Monday, officials expected "more extensive flooding."
• In Hughes, a warning is in effect until 4 p.m. Tuesday after an ice jam clogged the Koyukuk River about 3 a.m. Monday.  "River levels rose significantly," according to the National Weather Service, "and as of 8:30 a.m. … levels were continuing to rise."
• In Salcha, a flood advisory is in effect through 3:30 a.m. Tuesday as hot summer temperatures send melting snow and ice pouring downstream, causing the Tanana River to rise rapidly.  The Salcha Campground has already flooded.
• A flood watch continues through Tuesday afternoon for tributaries of the Yukon River, including Birch Creek and Beaver Creek and other streams flowing out of high country south of Alaska's largest river.