Norway's radioactive reindeer
A major spike in radioactivity was detected in central Norway's reindeer and scientists say it's because of a nuclear accident nearly 30 years ago.
They may not have red noses, but Norway's reindeer may be glowing in another sense this fall.
A "State of the Environment" report, released by the Norwegian Radiation Protection Authority this week, found elevated caesium-137 levels in wild reindeer living in the Våga reinlag AS in central Jotunheimen National Park.
Caesium-137 is a radioactive isotope – or charged atom – used in gauges and some cancer treatments. It's also one of the radioactive particles released in Japan's Fukishima nuclear reactor meltdown in 2010 and, closer to Norway, the Chernobyl disaster in 1986.
Nearly 30 years ago the explosion sent radioactive caesium-137 particles into the atmosphere, eventually drifting into Norway where they landed and absorbed into the soil.
Inger Margrethe H Eikelmann, a researcher from Norwegian Radiation Protection Authority, says Norway's reindeer have been studied for radioactivity since the 1950s and 60s, but Chernobyl really made the research urgent.
"The Chernobyl fallout was concentrated in the central part of Norway. Very little came to northern Norway, so, we were lucky," Eikelmann says. "But we can measure radioactivity in northern Norway, still today, from a bomb test in the 50s and 60s."
Gypsy mushrooms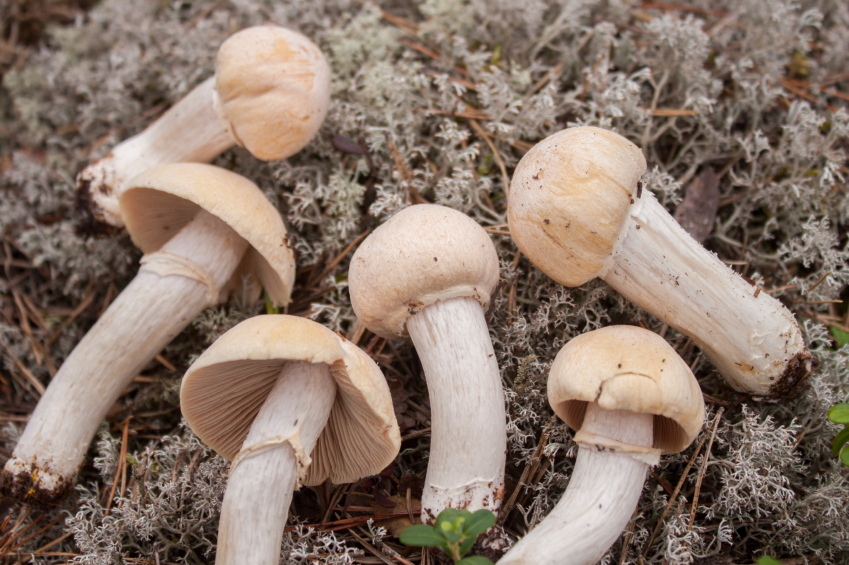 Nonetheless, traces of the radioactive isotopes pop up every summer in the plant life – particularly the gypsy mushroom, a delicacy for both humans and reindeer. The mushroom acts as a sponge for leaching caesium-137 out of the soil and scientists are certain it's the cause of the spike this year.
The jump this year was significant: this September the reading was 8,200 becquerel of caesium-137 per kilo versus September 2012 when the reindeer were averaging 1,500 becquerel of caesium-137 per kilo.
"You have some peak years, in '88 and in the '90s where there were summers with lots of mushrooms," says Eikelmann. "It's different year to year – the amount of mushrooms is very weather dependent. When you have humidity and long summers you get more mushrooms than if it's dry and cold."
This summer temperatures were hovering around or breaking the 30 C mark across Norway – even in the High North. It didn't surprise researchers that gypsy mushrooms were thriving and the reindeer feasting, "[they] are very fond of mushrooms." And, despite the spike this year, Eikelmann confirms the readings are, overall, on a downward trajectory.
Ridding food system of caesium
To cope with the fluctuations reindeer herders and food safety boards have come up with a few ways to keep radioactive reindeer meat out of stores and off dinner plates.
"We have two different ways of getting rid of the caesium from the food system. One is that you are unable to slaughter [the reindeer] now – you have to wait until November because the caesium has a half-life in the animal. In 30 days they will get rid of the caesium they have eaten," says Eikelmann. "And the second way is [to give] them 'clean food' so they are eating food with less radioactivity for one or two months so their reading goes down below the limit and then we can slaughter them."
So far, studies have shown the reindeer are not suffering any health effects from the higher-than-normal radioactivity readings. However there hasn't been much research done on the effects of eating radioactive reindeer meat – an issue that, if there are any dangers, would likely affect the Sami communities first because of their reindeer-rich diets.
The caesium-137 particles are set to reach their "half-life" expectancy in 2016 – a milestone that renders them half as radioactive as when they first landed in 1986 – but "it will take a very long time before the last part of it goes," says Eikelmann. "It will never be zero."
Related stories from around the North:
Canada: New study to examine mercury in Arctic, Alaska Dispatch
Greenland: Researchers must be honest with Arctic peoples about food contaminants: doctor, Eye on the Arctic
Russia: Is mercury harming foxes in the Russian Arctic?, Eye on the Arctic
United States:  Shift from traditional foods takes toll on Alaska Native populations, Alaska Dispatch