Air monitors installed in Nunavut, Canada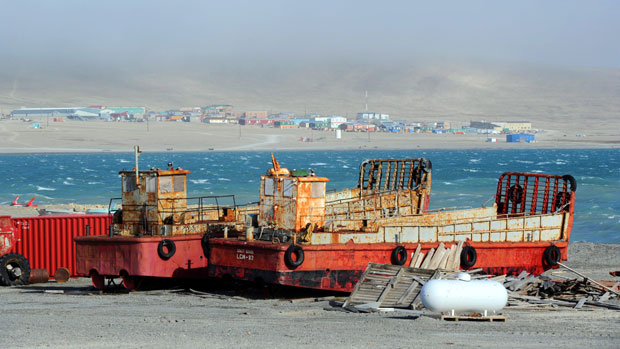 Environment Canada has installed air quality monitors in two communities in Canada's eastern Arctic territory of Nunavut to track the pollution that may come with more industry in the North.
Dr Ralf Staebler installed the monitors in Resolute and Cape Dorset this week. He said those communities were chosen for a few reasons.
"We wanted to be close to shipping lanes, either existing shipping lanes or shipping lanes that will become busier with time in the next few decades," he said.
"The other consideration is also that we always need to be in a place that can provide power and that has people locally available to change filters for us and just do some basic maintenance on the equipment."
Staebler said the air-monitoring units are about the size of a fridge. They'll measure things such nitrogen oxide, sulphur dioxide, ozone, and airborne particulate matter.
Staebler said the intent is to measure pollutants from ship traffic.
"What we'll really be looking for are the background conditions that are not caused by the local traffic," he said.
"So we're not looking for the trucks and snowmobiles and ATVs that are driving around these stations. We'll be looking at the data when there is no, or not much, local traffic, and we're hoping to pick up what the ships are emitting."
Staebler said the data will also be used to predict how air quality may change in the future. He likens it to weather forecasting.
"The actual measurements we're taking here in the Arctic, we're going to use those to evaluate the model and make sure the model makes proper and accurate predictions for the Arctic," he said.
An annual report on the project will be issued and Staebler said any data collected will be available to residents in those two communities.