Floods recede in waterlogged Alaska community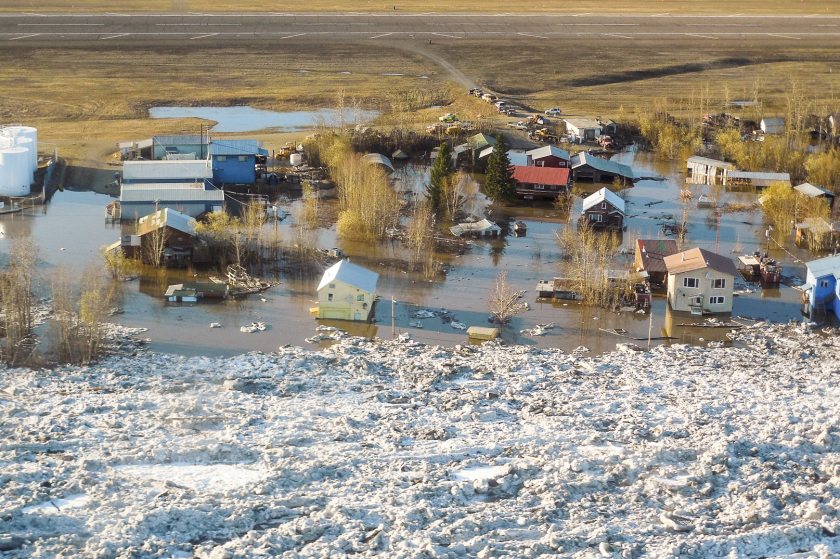 Floodwaters are finally receding in Galena, an Interior Alaska community that's endured three days of continuous flooding caused by an ice jam on the Yukon River. Now comes the long task of rebuilding.
Most residents were evacuated as nearly ever structure in town — and the 25-mile-wide valley basin surrounding Galena — was flooded. Waters rose to rooftops and structures came off their foundations. Power lines were downed and the entire community lost water and electricity, save a generator at the airport.
The ice jam finally broke Wednesday night; by Thursday, water levels had fallen and the sunken village began to emerge.
By afternoon, power was restored to both the airport and the Galena Learning Academy, a local boarding school where about 50 people were sheltered. Access to potable water and flush toilets returned to the community for the first time since Monday.
Roads were emerging from the flood around 3 p.m., Thursday, but massive ice chunks left behind by receding waters blocked access to many parts of town.
Pushing that ice aside with heavy equipment will be one of the first steps in restoring essential services to the community, said Jeremy Zidek, Alaska Department of Homeland Security spokesperson.
Residents "resilient"
Ed Plumb, hydrologist with the River Forecast Center, returned from Galena on Thursday afternoon after three days of monitoring river conditions, sheltered at the airport after his lodging flooded and he lost access to all his gear. He said Galena residents were "resilient," and staying positive, ready to take the rebuilding efforts ahead of them head on.
One-hundred thirty people are estimated to have remained in Galena; 50 are staying at the Galena Learning Academy, 16 are staying at the public school, and 64 people remained in their homes, elevated on piling, for the duration of the flood.
Residents who evacuated Galena haven't started returning yet. Homeland Security is eyeing the old Air Force Base, capable of housing 1,500 people, as a transitional shelter, when residents do start returning home. Having such a facility, capable of housing the entire community, is "really unusual" in rural Alaska, Zidek said.
Homeland Security is now working toward bringing the essentials back online in Galena; their focus is on bringing water and power back to community; the agency is working with GCI to restore cell phone service. The agency is also send its Rapidcom trailer, capable of making a wifi hotspot and allowing for telephone and radio transmission connections, to the village.
The village has requested port-a-potties, food and water, hygiene clean up kits, and a helicopter to ferry supplies from the old town to the new town, the latter still blocked by water and ice. A Village Safe Water technician will be sent to Galena to help with water sanitation issues.
For all the damage caused by the flood, thankfully, no deaths or serious injuries have been reported.
Other communities under flood warning
Downstream, the communities of Koyukuk and Nulato, both under flood warning, have thus far been spared. River observations for Koyukuk state that "there is still quite a bit of bank showing at the village," around 3 p.m. on Thursday.
In Nulato, water levels rose about 2 inches between 1 – 3 p.m. on Thursday afternoon, tribal council administrator Paul Mountain said. So far the town is in the clear. "The river is full of ice but it's [moving] fast," he said, passing the village by and not jamming up.
Mountain had also been in touch with the village of Kaltag downstream, which reported the ice was "just cruising by."
Most Nulato residents live outside of flooding danger zones in surrounding hills, Mountain said, but a handful of people live downtown near the river banks. Evacuation plans are in place to get people out if necessary.
"It's better to be prepared even if it doesn't happen," Mountain said.
For Galena residents taking shelter in Fairbanks, a community meeting at Pioneer Park will begin at 10 a.m. Friday morning, with a variety of agencies on hand to assist evacuees, including the American Red Cross, Department of Health and Social Services and the Tanana Chiefs Conference.
People wanting to help provide resources to help the victims should direct their efforts toward the American Red Cross of Alaska, which is helping victims in Anchorage and Fairbanks, or the Salvation Army of Alaska, Zidek said.
Contact Laurel Andrews at laurel(at)alaskadispatch.com