Photos: Paratrooper training exercise in Alaska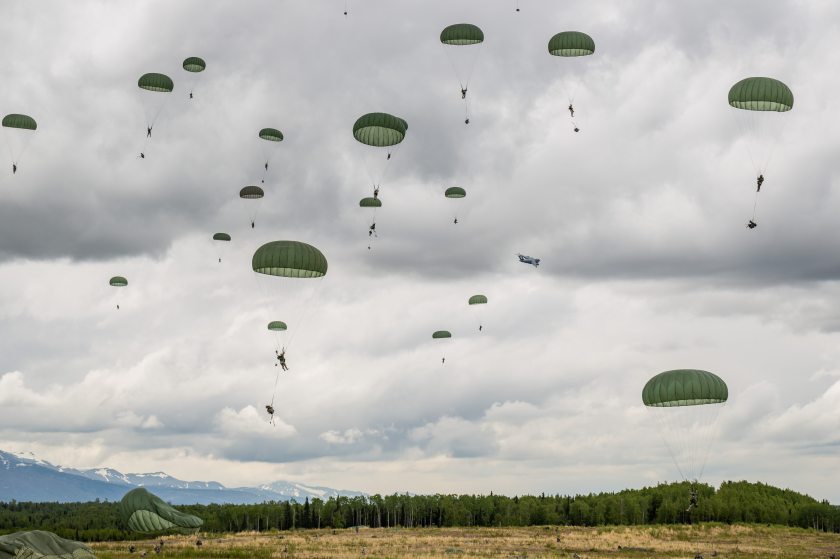 Residents of Eagle River, a suburb north of Alaska's largest city of Anchorage, may have seen something out of a war zone if they looked to the west on Tuesday, when about 550 paratroopers along with two hulking howitzers were airdropped from five C-17 aircraft into a drop zone located on Fort Richardson.
According to Joint Base Elmendorf-Richardson, it was a part of a three-day training exercise involving about 1,400 paratroopers dropped from aircraft into JBER and Fort Greely, a base and anti-ballistic missile launch site about 100 miles southeast of Fairbanks in Alaska's Interior.
The exercise Tuesday, part of "Operation Spartan Reach," was conducted at the Malamute drop zone on JBER and simulated a drop into a hostile zone. Paratroopers poured out of the aircraft overhead, landing in the field and surveying their surroundings before gathering up their gear to make room for the next wave.
According to Lt. Col. Chris Ward, commander of the 2nd Battalion of the 377th Parachute Field Artillery Regiment, the number of jumps that each paratrooper had under their belt varied widely — anywhere from six to more than 100. He said that each of them was required to complete at least five jumps in airborne school.
The exercise mostly went smoothly, with a couple of notable exceptions: one paratrooper suffered a "hard landing" when his parachute canopy failed to open on descent, sending him spiraling toward the earth. A JBER official said Tuesday afternoon that his injuries were not life threatening. Another paratrooper was also medevaced during Tuesday's exercise with an unspecified injury.
And it's not over yet. More than 500 paratroopers will perform another exercise at the same drop zone on Wednesday, completing a simulated exercise to secure the hostile zone and establish communication with a nearby command headquarters.
To see photos, click here
Read more:
Troopers hurt in Operation Spartan Reach, Alaska Dispatch