Santa joins former Eurovision winner Lordi at Lapland vaccination clinic to help boost jab uptake in Finland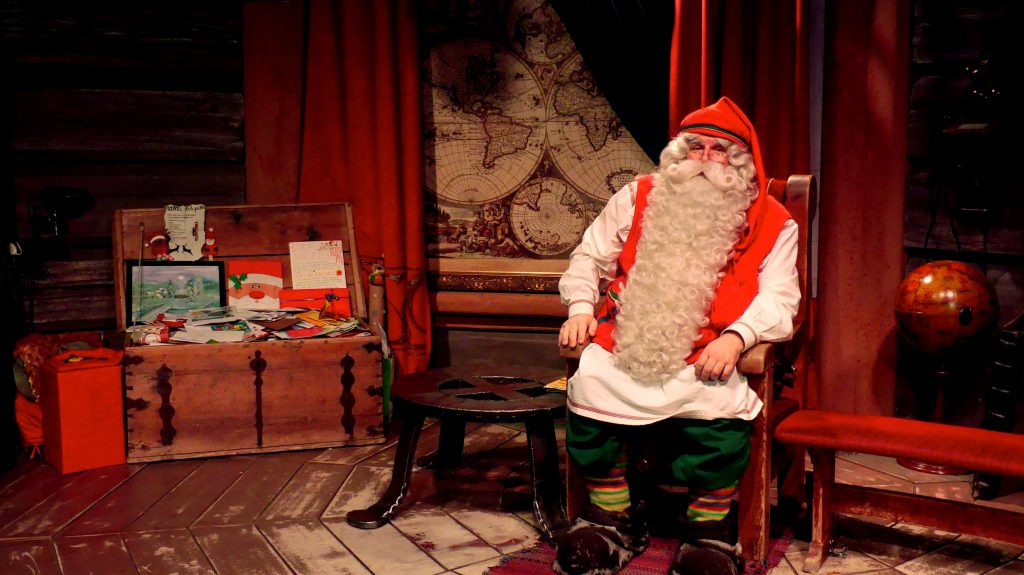 The event was aimed at encouraging people to get Covid jabs as well as promoting the use of free rapid testing.
Health authorities in Lapland held a 'pop-up' vaccination event in the city of Rovaniemi over the weekend, featuring the appearance of two prominent local celebrities, Lordi and Santa Claus.
Lordi, who won Finland's first and so far only Eurovision Song Contest title in 2006, received his second dose of the vaccine at the event on Sunday while Santa — given his mature age — had already received both doses.
"They put a big needle in my arm, and that's exactly why I came here. This was my second vaccine dose," Lordi said.
The heavy metal lead singer told Yle he can no longer recall how many times the band's tours have had to be postponed because of the coronavirus pandemic. Lordi, whose real name is Tomi Petteri Putaansuu, said he has been living in Rovaniemi and putting the extra time to good use.
"There's also good sides to all of this. It's given us an opportunity to be creative. We've recorded seven albums [during the epidemic]," Putaansuu said.
Putaansuu's and Santa's participation at the event was aimed to encourage more people to get vaccinated, particularly younger age groups.
Rovaniemi behind national average
According to the National Institute for Health and Welfare (THL), vaccination coverage in Rovaniemi is around ten percent behind the national average. The main factor behind the lagging coverage has been difficulties in booking a vaccination appointment slot.
Markku Broas, Chief Physician of Infectious Diseases of the Lapland Hospital District (LSHP), told Yle that the event was a success, with over one hundred people waiting outside in the queue to receive their first jab before doors even opened.
"This event was very well received. A good number of vaccines were administered over the weekend, and young people in particular got vaccinated. That's a really good thing," Broas said.
LSHP doc hails free rapid testing
Coronavirus infections have been increasing in recent weeks, especially among younger age groups that have attended music festivals and other events.
Broas said he therefore recommends that festival-goers make use of the government-funded rapid tests that are already available to all residents within the Lapland Hospital District, even if they are not showing any symptoms.
He noted that the tests are not only fast — with results obtained within half an hour — but also affordable.
"The antigen test (rapid test) is very cheap. The test strip costs around ten euros and the results are quick. This stretches testing capacity to an almost unlimited extent," Broas said, adding that when it comes to testing, Lapland could lead by example for the rest of the country.
Importance of quick roll-out
Most of Finland's national healthcare providers have opted for the more expensive PCR testing, which significantly limits not only the amount of tests that can be performed but also the threshold for people to book an appointment. The alternative is usually booking a test with a private healthcare provider, which can cost up to as much as one hundred euros.
"This is a tool to tackle the epidemic, so it should be free of charge much like the test provided when entering Finland from abroad. Free rapid testing would also be possible to roll out very quickly across the country as long as there is a willingness to do so," Broas said.
He added that the cost of the free rapid testing roll-out is low compared to the cost incurred by the spread of infections, especially considering that one in ten of those infected may suffer from long Covid.
Related stories from around the North: 
Canada: Outbreak declared over in Arctic Canadian city of Iqaluit, says chief public health officer, CBC News
Finland: Finland welcomes fully-vaccinated travellers, but Sputnik V isn't valid, The Independent Barents Observer
Greenland: COVID-19 rules continue in two places after infection clusters, but will be relaxed as planned in rest of Greenland, Eye on the Arctic
United States: Cruise ship arrives in Skagway, Alaska after passenger flown home with COVID-19, CBC News