Russians entering Finland estimated to grow by six to seven percent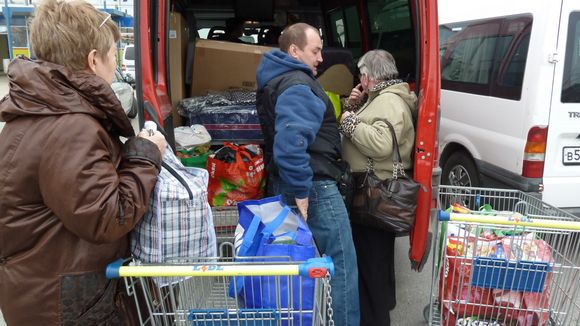 Shopping excursions by Russian visitors have grown most in the Russian cities of Vyborg and St.Petersburg, with the increased traffic seen at border crossings in the towns of Nuijamaa and Imatra in southeast Finland.
Russians entering Finland at  Vaalimaa, a border crosing,  for shopping trips are most often heading to Helsinki or further afield in Europe.
Up to last year the number of Russian tourists entering Finland had increased ten percent on 2011. Jarkko Alén, deputy chief of the southeast Finland border guard, said that growth in border crossings at Vaalimaa had slipped down to just two percent so far this year.
Alén said that growth in shopping traffic on the southeastern border had been strongest in Vyborg and St. Petersburg area, reaching ten percent or roughly trending with growth seen last year. Those tourists have been entering Finland through border crossings in Nuijamaa and Imatra in southern Karelia.
According to the deputy chief, Russian travelers entering Finland through Vaalimaa are typically heading to Helsinki or other parts of Europe.
Alén said that based on the current levels of travel, border crossings by Russians into Finland this year is estimated to grow by six to seven percent. However he pointed out that forecasting growth for the entire year is difficult because many factors affect traveler numbers.
Last year some 2.8 million Russians crossed the border at Vaalimaa. This year, up to June 9, just about 1.2 million Russian tourists had entered Finland through the land border.