Nunavut, Canada considers Ross' goose hunt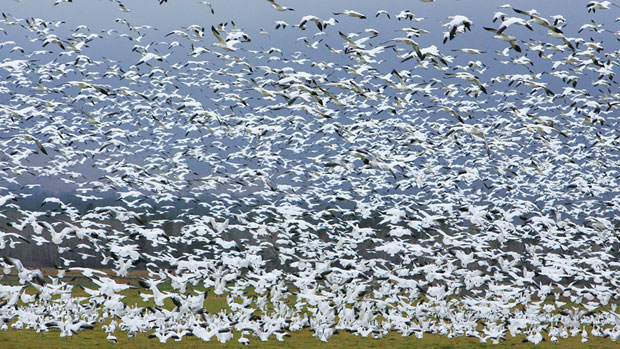 Hunters in Canada's eastern Arctic territory of Nunavut could soon be firing on a once-threatened species.
In the 1960s the Canadian Wildlife Service (CWS) estimated the population of Ross' geese at 100 thousand. That population has now reached 3 million.
The CWS is now concerned about the impact foraging geese have on the tundra in the Queen Maud Gulf in the Kitikmeot region of Nunavut.
Last week in Rankin Inlet the CWS approached the Nunavut Wildlife Management Board with a proposal to deal with the over-population of geese in Nunavut.
The recommendations include declaring Ross's Geese overabundant in Canada and legalizing a spring harvest.
Nunavut Tunngavik Vice President James Etoolook sits on the Nunavut Wildlife Management Board and welcomes the change. He says a hunt could lead to opportunities for local business as well as a local harvest.
Speaking in Inuktitut he said, "they are good source of nutritious food, and the feathers could be used. Some people could start thinking about economic opportunities. There are plenty of geese today."
The Nunavut Wildlife Management Board went into an in-camera session to discuss the recommendations.
Their decision will be sent to the Federal Environment Minister who has 30 days to respond.
Ross' geese are small and white, with black wingtips. They are often called a miniature version of the more abundant Snow Goose. The species breeds in the central Arctic and winters primarily in central California.
The CWS says the population of Ross' geese rebounded due to restrictions on hunting.