Alaska's record-shattering summer sizzle due to end next week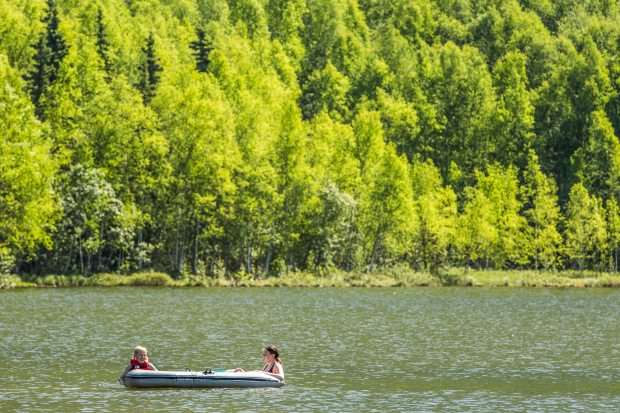 Persistent warm temperatures are making Alaska's late winter snowstorm in May a distant memory. In fact, this summer is one for the record books.
On Thursday, Anchorage extended a new monthly record for the most days above 70 degrees – 17 so far with more expected before the calendar flips to July on Monday. That shatters the old record for June, set in 1953, of 13 days above 70. It also broke Anchorage's all-time record for any month with days above 70 degrees. That's an even-older mark established in July 1936, with 14 days above 70.
"It's hot, but I am not complaining," said George Sanderson, as he looked, in vain, for floor fans at an Anchorage Home Depot store on Thursday.
Fans are in short supply, sold out at many local hardware and household goods stores. The Home Depot in Airport Heights expects a shipment of new fans in a few days, but the heat has sent people across the state to local ponds, lakes and streams seeking relief.
The run of warm weather in Anchorage is expected to continue at least another day.
Things have been much hotter farther north, with McGrath, and Fairbanks posting temps into the 90s.
Alaska's warmest spot so far? Chitina was 97 on June 17, just three degrees short of Alaska's all-time high of 100 set in Fort Yukon in 1915.
The reason for all this hot air?
A ridge of powerful high pressure systems over much of the state took control in early June, keeping cooler air away from Alaska — over Russia's Kamchatka Peninsula. But that is likely to change soon.
The National Weather Service says the Kamchatka low is making progress toward Alaska and will likely cool things down next week. That could mean daytime temperatures at or below normal for this time of year – in the low to mid 60s. Rain is also in the forecast for the Anchorage area.
Alaska is a place of extremes, and its weather is no different. But those extremes could also be the reason relief from the heat is so hard to find, at least in the state's largest city.
"We aren't ordering any more fans than we normally would because by the time they get here, (the hot weather) may all be over, and then we would be stuck with them," said a local hardware store manager, who did not want his name used.
Contact Sean Doogan at sean(at)alaskadispatch.com