Arctic Canadian community concerned after ravens shot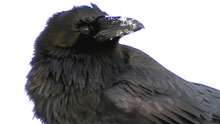 A wounded raven from the Arctic community of Old Crow in Canada's northwestern Yukon territory, is recovering at the Yukon Wildlife Preserve in the  capital city of Whitehorse after being shot.
It is one of two birds that was shot with what is suspected to be a pellet gun near the community.
Locals discovered the injured birds, and it has the Vuntut Gwitchin First Nation taking action.
First Nation fish and wildlife manager, William Josie, said the raven plays a large role in Gwich'in legends and history. He said they want to find out who is responsible.
"We just put a notice up and let people know, 'Have respect for the raven,'" said Josie.
The notice says ravens are protected under the Yukon Wildlife Act. It adds that any person found responsible for intentionally injuring the birds will be charged under the act.
The birds were sent to the rehabilitation centre at the Yukon Wildlife Preserve in Whitehorse. One had to be put down because of infection from its wounds.
"It does concern me and it should concern the community, itself. I think they should find out who did that and talk to the person," said Maria Hallock from the wildlife preserve.
Staff at the preserve have named the remaining bird "Spirit Bird" and say it is responding well to treatment.
The bird could be hitching a flight back to Old Crow on Air North within a few weeks.