Fires burn near Wrigley in Canada's Northwest Territories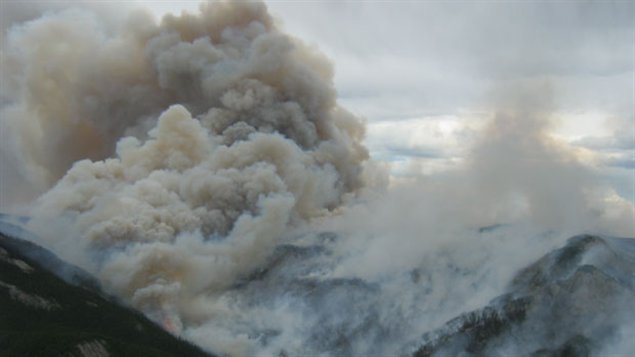 The voluntary evacuation order is still in place for people in the community of Wrigley in Canada's Northwest Territories.
A forest fire is burning along a ridge of mountains about 29 kilometres from the community of about 120 people.
About 30 people were arrived in nearby Fort Simpson late Monday night and early Tuesday morning from Wrigley, and more are on their way.
Some of the evacuees have been staying at school dormitories, while others chose a local hotel.
Brandon Moses arrived in Fort Simpson around noon on Tuesday. He said it was very smoky near his house in Wrigley on Monday, but he was planning to head back sometime Tuesday afternoon.
"The whole concern — it was really over exaggerated. I don't even think it was necessary for people to leave. Like, it's still pretty far out of town," he said of the fire.
Crews from B.C., Saskatchewan, battling blaze
The fire is still about 29 kilometres from town, but it's proving to be a challenge for crews to put out.
Frank Lepine, from the Department of Environment and Natural Resources, said the blaze is now about 20,000 hectares in size. He said it's difficult to get to because it is burning along ridges of a mountain range near Wrigley.
Lepine said conditions also continue to be dry in that area, which isn't helping efforts.
Forty firefighters from the western Canadian province of British Columbia have been helping to fight the fire for weeks. That crew is said to be getting some much-needed rest as 20 firefighters from the prairie province of Saskatchewan have taken over.
The fire is now just five kilometres away from the Enbridge Pump Station.
No one from the company has spoken with CBC News about the potential impact on the pipeline, or how they are protecting themselves from the blaze.
A representative from the Department of the Environment and Natural Resources told CBC News that they were clearing brush away from the area, and that Enbridge would be provided with sprinklers if needed.
There was some drizzling rain on Tuesday, but much more is needed to dampen the fires.
There have been 186 fires this season, and 121 are still burning.