Alaska State Troopers show off new whirlybird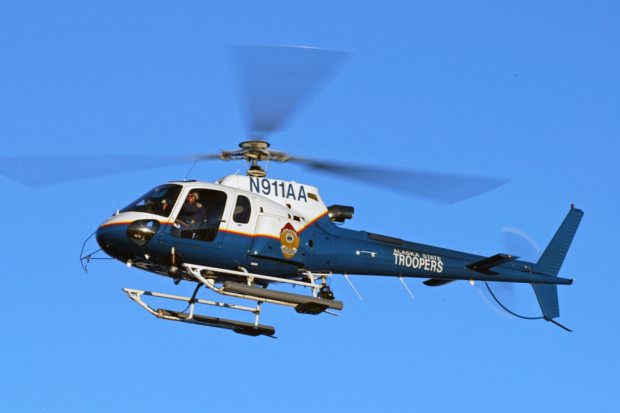 With an audible click, the red taillight of the Alaska State Troopers' newly purchased American Eurocopter A-Star 350B3e began to pulse, and pilots John Chiri and Ken Keiser put on headgear before firing up the helicopter's engine. The rotors of the copter rapidly gained speed, and in less than a minute, the $3.2 million search-and-rescue tool was up in the air and out of sight. The whirlybird slapped with trooper decals from front to back is one of two new A-Stars, though troopers are still budgeting for the second purchase.
The A-Star reached Anchorage last week, after state Department of Public Safety officials went to Texas and took possession of their new toy from American Eurocopter. Alaska largest city will serve as the helicopter's temporary home, before it moves to Fairbanks early next year.
Troopers originally intended to send "Helo-2" directly to the Interior city, but the agency suffered a setback when its previous Anchorage-based A-Star crashed during a search-and-rescue mission. The troopers' highly-equipped Helo-1 was airborne for seven minutes March 30 before a fiery crash that killed all three aboard, according to a preliminary report from the National Transportation Safety Board.
The helicopter had been summoned to an area near the intersection of two established snowmachine trails by 56-year-old Carl Ober, a longtime Talkeetna resident who has been described as "a dog musher, trapper, and carpenter." The crash killed Ober, as well as troopers Tage Toll and Mel Nading, a veteran pilot who had rescued more than 70 people last year alone.
Helo-2 was never meant to replace the downed copter. Troopers purchased it prior to the fatal crash. In late May, Col. Keith Mallard told the Alaska Dispatch that troopers had thought about purchasing a replacement, but those plans were in preliminary stages. A month later, it went ahead with a second purchase.
"AST was on a timeline, because if we waited much longer, it would be two, possibly more years out till we could get in line to get another helicopter," said Col. James Cockrell standing in front Helo-2, perched on the freshly cut lawn of the troopers' Anchorage offices.
Cockrell said the agency is "working diligently through our budget process to make sure we can get the funds to pay for it." Helo-2 cost the state $3.2 million, money appropriated by the Alaska Legislature. The troopers are getting an unspecified amount of money back from the state for Helo-1 through a risk-management payback.
The second copter, and the actual replacement for Helo-1, will cost between $3.4 and 3.6 million, Cockrell said. But it's nearly identical. The sole difference is whirlybird No. 2 lacks an infrared heat-tracking system, he said.
Helo-1's pilots on hand Thursday have decades of aviation experience between them. Keiser was hired as Anchorage's full-time civilian pilot. Before signing on with the troopers, he spent 11 of his 24 years in the U.S. Army flying rotary wing aircraft, such as Blackhawks and Bell UH1s. After that, he flew fixed-wing aircraft for 13 years.
"With all that experience always comes evaluations that keep you on your game," he said.
Two troopers are also trained to fly Eurocopters. The state has not hired a civilian pilot for the Fairbanks post yet.
Cockrell gave a nod to the troopers' fallen pilots when discussing the helicopters' importance.
"I can't think of another person in public safety that's touched and saved more lives than the person who flew this helicopter for the past 10 to 12 years," he said.
Contact Jerzy Shedlock at jerzy(at)alaskadispatch.com