Contract axed for only treatment centre in Canada's N.W.T.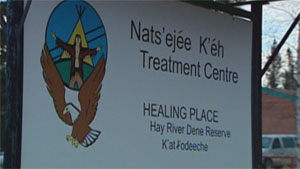 The government of Canada's Northwest Territories announced Thursday that it will not renew the contract for the only addictions treatment centre in the territory.
The Nats'ejee K'eh Treatment Centre is located on the Hay River Dene reserve. Its current contract expires Sept. 30.
The Minister of Health, Tom Beaulieu, said the centre is not meeting the needs of people struggling with addictions. He said the government hopes to focus on other kinds of treatment.
"Our focus will be to move to treatment on the land, and some mobile treatment and some regional treatment. These are things that were brought out in the Minister's forum," he said.
A 13-member Minister's Forum on Addictions and Community Wellness found communities want more traditional forms of treatment.
The health department said the centre also had problems recruiting and retaining qualified staff.
Beaulieu said money which used to go toward the Hay River treatment centre will now go toward setting up mobile and on-the-land treatment programs.
For now, the government will rely on treatment centres in Alberta and B.C.