Hunters can shoot over 300 bears in Sweden's autumn hunt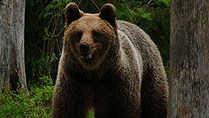 Hunters will be allowed to shoot up to 305 bears in Sweden, almost one tenth of the total population, reports Swedish Radio P4 Jämtland.
The last time the bears were counted, in 2008, there were around 3,300, and the Environmental Protection Agency says this number has probably grown by a few hundred since then.
From the 21st of August to the 15th of October hunters with a licence are allowed to shoot a certain quota of bears in certain Swedish counties.
Every year about 50 more bears are shot, when a local authority decides they pose a risk to livestock.