Proposed mine in Canada's N.W.T. needs $1.6B to operate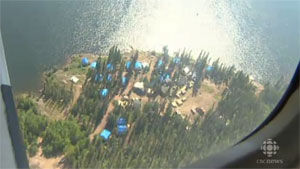 The fate of a proposed rare earth minerals mine in Canada's Northwest Territories (N.W.T.) is now in the hands of the federal Minister of Aboriginal Affairs and Northern Development.
Avalon Rare Metals' proposed Nechalacho mine was approved with conditions last week by the N.W.T.'s Mackenzie Valley Review Board.
The panel reviewing the project said it can move forward in the regulatory process as long as the company does work to mitigate environmental impacts.
However, even if the minister gives the project the green light, getting the money to turn it into a mine may be an even bigger challenge than the environmental review.
Once it gets its permits, Avalon Rare Metals will have to convince investors to spend about $1.6 billion to turn it into an operating mine.
But for those investors to make a profit, the prices of rare earth metals will have to be much higher than they are today.
"It will require courage from financial backers to put this into production, some serious assumptions about where the rare earth market is going in terms of demand and pricing. We need a doubling of rare earth prices to make this project viable," said John Kaiser, a mining industry analyst and the head of Kaiser Research Online.
Kaiser said that kind of a price jump is not that outlandish an assumption.
"The price used by Avalon in its feasibility study is $65 per kilogram, which is not far off from the $62 per kilogram that Toyota has predicted for 2016," he said.
In 2011, the value of so-called heavy rare earth metals jumped 1000 per cent because China, which produces almost the entire world's supply, cut back on how much it was selling.
China's supply is only expected to last another eight to 10 years.
Heavy rare earth metals are used in the production of electronic equipment such as computer tablets and smartphones.
Avalon estimates the Nechalacho mine would have a life of at least 20 years.
The project is located near the East Arm of Great Slave Lake. It would be the first heavy rare earth metals production supply to emerge outside of China.
North Slave Métis welcome mine
The President of the North Slave Métis Alliance says the Nechalacho project will give his members new opportunities.
Bill Enge says the project will give long lasting economic benefits.
It's offering aboriginal groups a collective 10 per cent share in the company.
"They want to ensure that aboriginal people that are affected by the mine are going to prosper because of the mine by providing shares in the mine. That's going to do that when the mine goes into operation. I'm sure the shares are going to go through the roof," he said.