Yukon man who saved cyclists from bear called a hero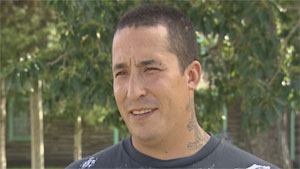 A man in Whitehorse, the capital city of Canada's northwestern Yukon territory, who saved two young girls from a black bear doesn't consider himself a hero.
Mike Fred's quick action Sunday night scared off the bear, which was chasing two cyclists in their early teens.
Fred was driving along Mountainview Drive, near the Porter Creek area of Whitehorse, when he saw the unnerving sight.
"It was at the centre line and the kids were on the white line so [it was], ten, twelve feet [away]."
Fred drove his pickup truck right at the bear to scare it off. The bear ran off into a gully when Fred drove at it.
He got the girls into the vehicle, put their bikes in the back, and drove them home.
"I got two kids and it was just the fatherly instinct I guess. I saw the bear going at the kids and I just figured the best thing to do would be to try and run it over before it got the kids," he said.
Janet Sanders witnessed the incident and said Fred is a hero who deserves thanks.
Fred humbly disagreed.
"I don't think so. I think any person in that situation would have probably done it."
Meanwhile, conservation officers set two live bear traps in the area and are warning Porter Creek residents to use caution.
Related Link: