Company squeezes more from a once-dead Alaska oil field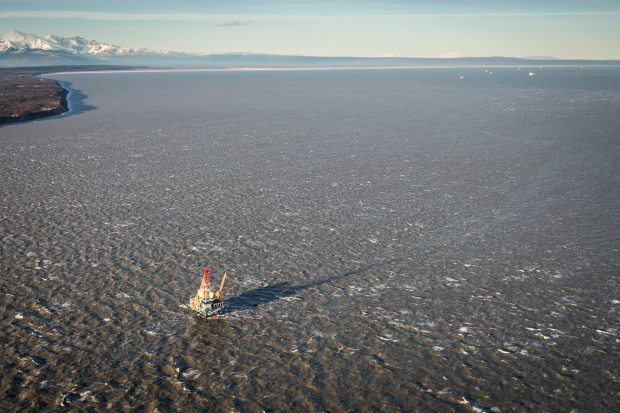 Another newcomer to Cook Inlet's oil and gas fields has boosted production after rehabilitating old wells with aggressive drilling techniques.
The increased oil production, courtesy of Tennessee-based Cook Inlet Energy, is miniscule compared to the half-million barrels of crude produced daily on the North Slope's massive oil fields. But it's significant in the gray inlet southwest of Anchorage, where a burst of new activity in recent years has helped revive once-sagging production, thanks in part to generous incentives offered by the state.
Cook Inlet Energy, owned by publicly traded Miller Energy Resources, reported Monday that it's two-for-two in efforts to get significantly more oil from old wells using sidetrack drilling.
The approach essentially allows new wells to be drilled alongside old wells in order to sidestep obstructions or mechanical issues that had previously hindered flow.
That's basically what Cook Inlet Energy did at a formerly shut-in well — known as RU-1 — at the Osprey Platform in the waters about 10 miles west of Nikiski, according to an announcement issued Monday.
The reworking of the well resulted in an initial production of 700 barrels per day, more than doubling the well's historical rate.
That success comes on the heels of another sidetrack well — dubbed RU-2A –that led to the production of about 1,250 barrels per day. Cook Inlet Energy has also revamped the RU-7 well, now producing about 200 barrels per day in July.
Production at Osprey
Cook Inlet Energy purchased Osprey and its related facilities in 2009, after former owner Pacific Energy declared bankruptcy and abandoned its Alaska assets when the price of oil plunged from record highs.
The improvements mean that production at Osprey has risen from a low of 20 barrels daily just before its wells were shut-in, to more than 2,000 barrels today.
"It's quite a good feeling," said David Hall, CEO of Cook Inlet Energy. "It's good to not only see production go considerably up in such a relatively short time, but also to recognize that there's such huge potential."
"Best we can tell, Osprey is now the single largest oil producer in the Cook Inlet," said Hall, who has explored the region for decades working for various companies.
Oil production averaged 11,000 barrels daily in Cook Inlet last year. Just 7,500 barrels flowed in 2009. In the inlet's heyday in 1970, companies produced 230,000 barrels daily.
State perks that include no tax for oil produced have helped spark the new activity. For the first time in years, jack-up rigs are in the water exploring. Also, Hilcorp Alaska's aggressive efforts have helped put off a potential natural gas shortage facing utilities. The extra work is also said to have juiced local economies in Southcentral.
Hall predicts more oil production in the coming years from Cook Inlet Energy, which leases one of the largest stakes of any company in the inlet, nearly 700,000 acres.
For its next rehab effort, the company plans to move a drilling rig to the RU-5 well to complete another sidetrack and increase production there, Hall said. It's also operating two other drilling rigs in the region.
"We've just got a very skillful and dynamic team, and we've proven it to date," he said. "We're a company to keep your eye on as we continue to be aggressive in Cook Inlet."
Contact Alex DeMarban at alex(at)alaskadispatch.com