Greenpeace Arctic oil campaign targets Danish Shell refinery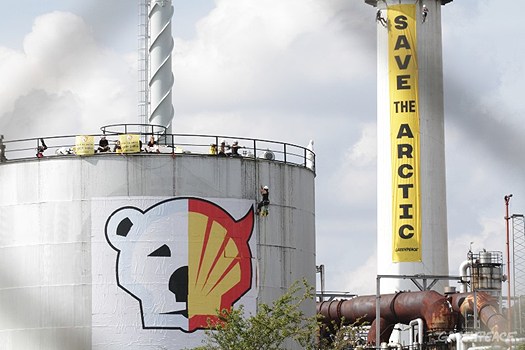 Eight Swedish environmentalist were arrested at a refinery in Denmark yesterday as they tried to unfurl banners protesting against Arctic oil exploration.
The group, from Greenpeace Sweden, were joined by Danish activists clad in polar bear costumes and climbed on top of an oil silo at a Shell refinery in Fredericia in western Denmark.
"We've succeeded in highlighting the true face of Shell. Oil drilling in the Arctic is just insane," said Swedish activist Sandra Lamborn, who was released and returned to Sweden today.
"If there's a major spill up there there's no way to clean up the oil, and for the sake of the climate we must leave Arctic oil where it is."
Lamborn was one of six climbers who scaled The 310 metre tall Shard building in London in July, as part of an ongoing campaign against Shell's oil and gas exploration in the Arctic. Earlier this week a Greenpeace ship, the Artic Sunrise, was boarded by Russian coastguards as it tried to block oil prospecting ships in Russian Arctic waters.
Responding to the latest protest action, Shell Denmark issued a statement saying that "Greenpeace has naturally the right to express their disagreement with Shell, but that should happen within the framework of the law".