Nikiski edges out Valdez and other Alaska gasline terminal hopefuls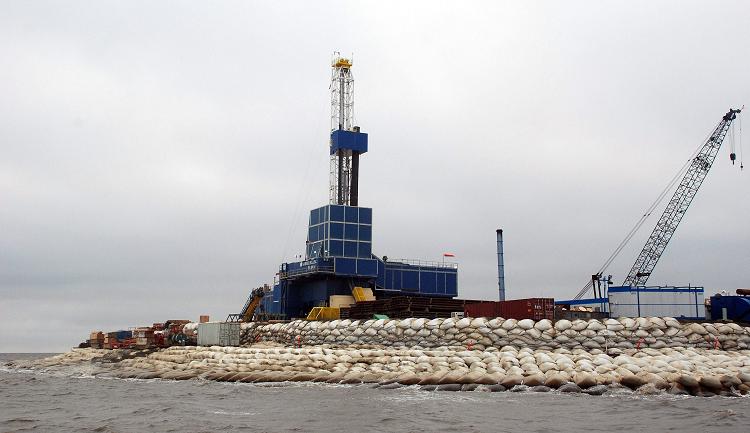 The three largest oil corporations doing business in Alaska and a Canadian pipeline builder are now looking to acquire more than 600 acres of land in Nikiski, a Kenai Peninsula community of about 4,300, which on Monday took the lead among sites under consideration as the terminus for a large-diameter gasline and gas liquefaction plant that together could help restore Alaska as an energy powerhouse.
Nikiski's selection — announced by the Alaska Pipeline Project consortium that includes Exxon Mobil Corp., BP, ConocoPhillips and TransCanada — also means that project designers are looking at running the proposed 800-mile-long pipeline along the Parks Highway, possibly going over the Yukon River by bridge and crossing under the Susitna River and Cook Inlet.
"One thing we're working on now is how do you physically cross the major waterways?" said Steve Butt, the project's senior manager and an Exxon employee.
Of course, there's still plenty to be decided for a mega-project estimated to cost $45 billion to $65 billion or more, one that will require years of design, permitting and construction. But the news of Nikiski's selection over some 20 other coastal sites in Southcentral Alaska revived a bit of hope among many who are concerned about dwindling revenues from oil production for state coffers. Oil and gas royalties make up an estimated 90 percent of income used to fund state government in lieu of an income tax or sales tax.
As the current proposal stands, natural gas would be piped from the North Slope to Nikiski, where it would be converted into liquid form and shipped via massive, refrigerated tankers for export to energy-hungry Asian markets.
Rep. Mike Hawker, R-Anchorage, who introduced the legislation supporting a potentially competing proposal, a smaller-diameter gasline driven by the Alaska Gasline Development Corp. (AGDC), called the site announcement "good news."
"It's just a good thing to see the companies involved in putting together a pipeline project agreeing sufficiently to take a good step forward," he said.
If the larger-diameter pipeline proposed by the oil companies and TransCanada becomes a reality, AGDC will be the "state representative in negotiations to see if there's the possibility to align and consolidate" the competing projects into one, Hawker said.
Should the oil companies abandon the 800-mile pipeline idea, then AGDC would forge ahead with the small-diameter gasline, envisioned to deliver natural gas to Alaska's population centers, Hawker said.
Other locations have been identified as altnernatives for the pipeline terminal and LNG plant if Nikiski ultimately doesn't work. Butt wouldn't comment on where those alternatives were. Also unknown: where five off-take points would be constructed, along the large gasline, to deliver gas directly to Alaskans.
Longing for overland construction boom despite Arctic shipping option
The state for decades has sought a gas project that would tap the North Slope's vast natural gas reserves — one of the largest store of conventional gas in North America.
But many Alaskans are skeptical because the producers have often backed out of such efforts after studying the costs. And in recent years, companies around the world have ramped up efforts to ship LNG, while the Alaska project has crawled along, even as utilities in Japan have said they're interested in buying the state's gas.
Earlier this summer, the oil companies missed a key benchmark set by Gov. Sean Parnell that would have put them into a costlier phase of the project. Instead of spending the hundreds of millions of dollars on pipeline planning they'd promised, the gasline consortium instead claims spending on the project was in the tens of millions. Butt said he's looking at reducing long-term challenges to create the best possible project, an approach that may not always result in the largest expenditures.
"Sometimes it's about spending money but sometimes it's about studying key things you don't know," he said. "It's a hurdle race. We want to clear the next one, but it's really about making sure we can clear all the hurdles."
The consortium has spent more than $700 million on the project so far, he said. Some 450 people were employed this summer, a number that includes an estimated 150 doing fieldwork between Prudhoe Bay and Livengood, northwest of Fairbanks. Many of those employed have been Alaska contractors.
The hurdles are numerous, as spelled out in the press release announcing the site selection on Monday. "A number of engineering, technical, regulatory, fiscal, commercial and permitting issues still need to be resolved" as work on the potential project continues, the statement said.
The companies also said in the statement, as they often have before, that they want a "competitive, predictable and durable oil and gas fiscal environment." A discussion on that topic — how the state will tax the gas — may happen when the Legislature convenes in January.
Not having those clear fiscal terms, Butt said, is like a person trying to purchase a home without knowing what interest he'll pay on the mortgage.
Nikiski: ConocoPhillips country
Some might think Nikiski is the perfect site for the LNG plant: Conoco already owns a small, recently-idled liquefaction plant there that has shipped liquefied natural gas from Cook Inlet overseas for decades. With more gas being produced in Cook Inlet in recent months, the state has requested that Conoco restart those LNG exports.
But the liquefaction plant proposed by the oil companies and TransCanada would be separate and much larger than the Conoco plant, Butt said.
"The presence of the Conoco facility has no bearing on this decision," he said.
Nikiski's advantages over other potential sites include flat, solid land, a sizable airport and existing infrastructure such as industrial facilities and roads to provide access, he said.
The statement also said cost was a factor in the decision. Assumptions that the cheapest gasline route is along the existing trans-Alaska pipeline right of way — the route for oil carried from Prudhoe Bay to Valdez — are not correct, Butt said.
Though there are benefits, such as using existing access along the route, the two lines can't run too closely to each other because of issues of access and safety, he said.
"It's sort of a Goldilocks challenge," he said. "You want to be close, but not too close."
Another benefit of the Nikiski location: "The Nikiski site also results in a pipeline route that provides an access opportunity to North Slope natural gas by the major population centers in Fairbanks, Mat-Su Valley, Anchorage and the Kenai Peninsula," Butt said in the release.
Once a site is chosen, that will open the door for the companies to seek export approval from the Department of Energy and to move toward receiving regulatory approval from the Federal Energy Regulatory Commission.
There's no guarantee the project will ultimately happen, but the companies have completed similarly challenging projects before, he said.
"It's still early in the process of defining a project, and we have a lot of design work (ahead of us). But it's fair to say that technically, we can do this," Butt said.
Contact Alex DeMarban at alex(at)alaskadispatch.com