Shell's spill-response training in remote Alaska villages first step for new company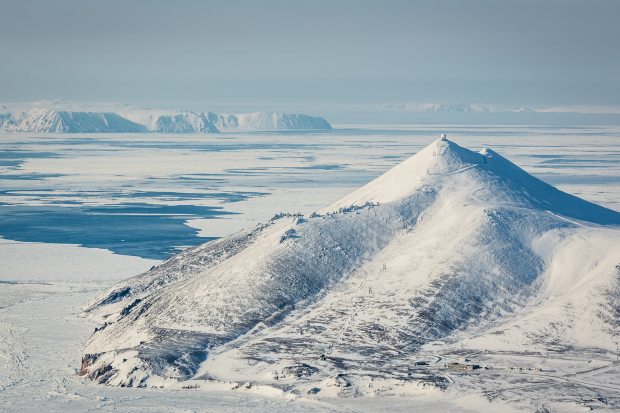 An impoverished group of Northwest Alaska villages whose residents hunt walrus and seals to survive have banded together to form a corporation to capitalize on an economic boom on the U.S. side of the Arctic, should that day ever come.
Most importantly, the fledgling Bering Sea Alliance wants villagers involved in whatever development occurs so it's done responsibly. That includes being trained to respond to a spill, an increasing possibility with growing numbers of freighters steaming through the 50-mile-wide Bering Strait, gateway to the Arctic Ocean that the seven villages call home.
"We wanted to leave nothing to chance as it related to the resources our villages depend on," said Art Ivanoff of Unalakleet, the company's chief executive and its only employee at the moment. "It's marine life that sustains our villages and we're trying to find a way to have the tools in the toolbox to respond to an incident if one were to occur."
Hazardous materials workshop
The alliance has been pushing aggressively to let oil companies as well as state and federal agencies know it's available to provide such things as emergency response services or manpower for a cleanup, he said.
The group's efforts will bear their first fruit early next week. Royal Dutch Shell agreed to sponsor a hazardous materials training workshop in Wales for 12 to 24 residents living in that village at the tip of the Bering Strait, said Ivanoff.
The Netherlands-based oil giant is also interested in providing the training in the six other villages that, along with Wales, launched the alliance in August, Ivanoff said.
Shell's decision to pay for the three-day training could be a hopeful sign for Alaskans worried that the company will abandon the exploratory drilling they started in summer 2012, when Shell became the first company in two decades to punch into the U.S. Arctic Ocean seafloor.
Federal regulators allowed the company to start drilling in two locations, but made it stop short of going deep enough to reach oil or gas, because all the spill-prevention equipment the company had promised wasn't yet on site.
But after the floating drill rig Kulluk snapped free of its tow and grounded in a New Year's Eve storm in the Gulf of Alaska enroute to Seattle, Shell put Arctic drilling on hold for the summer season of 2013. With its drill rigs sent to Asia for repairs, Shell hasn't said if, or when, it's coming back to finish the job.
Generous and cautious
Shell has already spent more than $5 billion on its endeavor. If they're not returning, why would they spend even more money to hire a contractor, UIC Arctic Response Services, to provide training in the villages? And why pay for that training in a region that's more than 400 miles from Shell's closest offshore drill site?
Shell spokesman Curtis Smith said he could not make anyone in the company available to comment about the training. "Leading up to quarterly earnings we generally like to keep a low profile on new stories so as not influence stock price one way or the other," he said.
Shell's decision to pay for the training is not only generous, said Ivanoff. It also reflects a cautious approach by Shell. After all, the company must send the numerous ships in its drilling fleet through the Bering Strait to reach the Arctic Ocean.
"They're passing through with a lot of equipment and supplies necessary for drilling," Ivanoff said. "They don't want to leave anything to chance. They saw the need to enhance their ability to respond if the need arises."
The village corporations in the alliance represent Alaska Natives with roots in St. Michael, Stebbins, Unalakleet, Golovin, Nome, Wales and Gambell. Several other village corporations in the region were invited to join but haven't.
"The door is open," Ivanoff said.
The villagers aren't just interested in stopping oil spills. They've also met with the state Department of Natural Resources and the Bureau of Ocean Energy Management to better understand the development potential for minerals and oil and gas in the Bering Strait region.
Resources that might one day be tapped include small pools of oil, rare-earth minerals and coal. The village corporations want to be involved to make sure there's no harm to the environment and that local people get badly needed jobs, Ivanoff said.
In Wales, population 145, the average income of each resident is below $12,000. That figure is only a third of what it is in Anchorage, the largest city in Alaska with nearly 300,000 residents.
"We're trying to find a niche," said Ivanoff. "We're trying to find some way to get direct benefits to our villages because a lot of people are hurting."
The Arctic is said to contain 20 percent of the world's hydrocarbon resources, fueling expectations that corporations will rush to develop the little-explored region as warming temperatures and less sea ice open new opportunities.
'Development is going to occur in the Arctic'
So far, most of the new activity has occurred on the Russian side of the Bering Strait, with that country beefing up its Arctic infrastructure to enhance shipping between Asia and Europe, and to promote mineral and petroleum exploration.
Shipping has grown on the U.S. side of the Bering Strait, too, but more slowly. Shell's effort is the most visible attempt to capitalize on the potential riches locked in the U.S. Arctic.
At a meeting in Wales four months ago, several village corporations met with Shell and representatives from other oil giants that have eyed oil exploration in the U.S. Arctic Ocean, including ConocoPhillips and Norwegian-owned Statoil.
Perhaps the alliance will ultimately joint venture with other companies to provide spill-response or rescue services. Perhaps, if shipping continues to grow and ports are built, the alliance can be there to fuel ships and provide supplies.
"Development is going to occur in the Arctic," Ivanoff said. "But we're not going to sit around and wait for it to come to us. We're in a good position to offer services based on our locations and we need to be involved."
Contact Alex DeMarban at alex(at)alaskadispatch.com