Mining slowdown hurts economy in Canada's North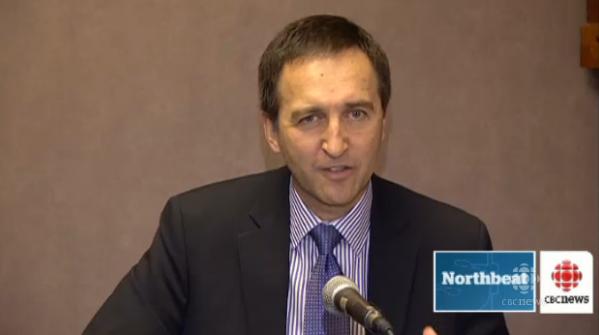 Canada's three northern territories will have to weather some tough fiscal times over the next year before new mines and exploration kick in down the road, says the Conference Board of Canada.
In a report released Wednesday, the board said the wobbly global economy has damaged the North's immediate prospects.
"In the last year and a half, with commodity prices that came down, we saw a weakening of economic activity up in the North," said Marie-Christine Bernard, one of the report's authors.
"But beyond this, if there is more stability in the global economy, we will see stronger growth in the territories."
Weak economic outlook
Weak economic conditions depress prices for metals and other commodities needed by manufacturers. That makes it tough for miners to raise the large amounts of money required to finance a mine.
The mining industry was affected in every province, said Bernard. But in the North, where it makes up the largest part by far of the private sector, the effect was felt most deeply.
In the Northwest Territories (N.W.T.) , gross domestic product growth is expected to be flat this year, the worst performance in Canada.  In the northwestern Yukon territory, it's predicted to manage only 0.6 per cent and in the eastern Arctic territory of Nunavut — the smallest economy of the three — is anticipated to reach 1.6 per cent.
However, the report notes commodity prices remain high enough to keep mining projects on the books still viable.
Beginning in 2015 and over the next several years, a total of nine metals mines — everything from rare earths to gold to iron — are expected to begin construction. Nunavut will see two projects, Yukon expects three and the N.W.T. should see four — as well as a new diamond mine.
Possible growth later
As early as next year, Yukon's GDP should grow by 5.7 per cent. By 2015, Nunavut will be growing at the rate of 3.7 per cent and the year after that, the board said the N.W.T. should achieve nearly eight per cent.
Bernard acknowledges much of the wealth those mines generate won't stay in the North. Fly-in, fly-out workers, especially in Nunavut, will take their wages down south.
But that situation is improving as territorial governments expand training programs for local workers. Labour force participation for aboriginals is slowly growing, Bernard said.
She also points out the board's forecast depends on the global economy gradually regaining its feet. Events such as a possible U.S. government default could knock it back down.
"It's not a sure thing.
"When we produced our forecasts, about three months ago, we thought the global economy would do better. But now it seems that some of these debt ceilings might derail (things) a bit because of the uncertainty."
Still, she said, China and other developing nations should keep northern mining projects viable.
The conference board is an independent, non-profit think-tank that conducts research on a wide range of economic and public policy issues.
Related Link: