Preserving Arctic historic site with 3D technology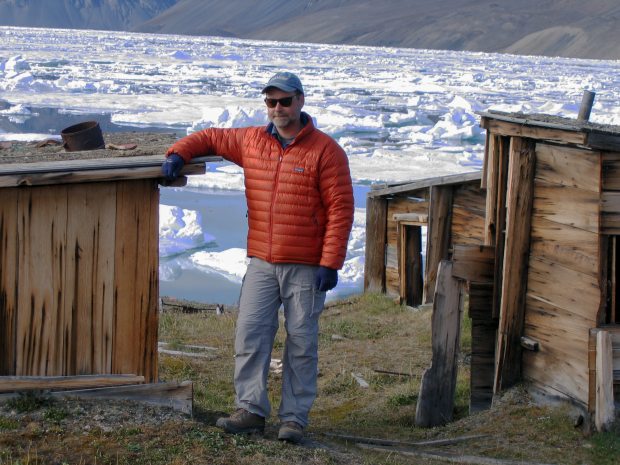 New technology has preserved, in cyber form, some famous high-Arctic structures that have fallen victim to the real-world ravages of time and a warming polar climate.
Fort Conger, a collection of century-old structures used by pioneering Arctic explorers, is the subject of a cutting-edge 3D imagery project led by Peter Dawson, an associate professor of archaeology at the University of Calgary.
The weather-battered buildings were erected on northeastern Ellesmere Island, one of the planet's northernmost spots of land and a base camp of sorts for Robert Peary and other Arctic pioneers. The computer images created by the project provide detailed views of a site that few people will ever see.
Dawson and his colleagues conducted the multiyear project with the support of several organizations, including Parks Canada, overseer of Quttinirpaaq National Park, home to Fort Conger and the Virtual Museum of Canada. He and a team of fellow researchers and historians spent two weeks in 2010 at Fort Conger, laser-scanning images of the structures and their surroundings, no easy feat for ultra-sensitive equipment in an ultra-extreme environment.
Displayed in cyberspace
It took the next three years to compile, process and organize the images. Now they are displayed in cyberspace for educational purposes by a nonprofit organization, CyArk, dedicated to visual preservation of imperiled cultural sites.
CyArk was created by California technology entrepreneur Ben Kacyra in response to the Taliban's destruction of 1,600-year-old Buddha statues in Afghanistan. It will launch its "CyArk 500 Challenge," a project to document the top 500 cultural sites around the world, at a conference on October 20-22 at the Tower of London. Fort Conger will get special recognition at the London conference, said CyArk spokeswoman Devon Haynes.
When he arrived at Fort Conger, Dawson said, he was well aware that he was at the site of past drama. "It's almost surreal, especially if you know the stories about the expeditions," he said.
Fort Conger was the creation of Lt. Adolphus Greely, who led the part-visionary, part-foolhardy and now-notorious Lady Franklin Bay expedition launched in 1881, the first International Polar Year.
Arctic crucial to global climate
Greely was convinced, long before ordinary people used the term "global warming," that the Arctic was crucial to climate around the world. His team collected detailed weather records that scientists use today. But Greely was overconfident, and he and his men were woefully under-prepared. The expedition, planned for a single year, stretched over three; rescue ships expected to bring the men home failed to arrive at Ellesmere Island. Stranded in the Arctic, the men endured starvation, frostbite and madness. Some ate the flesh of their dead comrades. Only six of the 25 expedition members returned home.
Subsequent denizens of Fort Conger were much more Arctic savvy. Peary, Matthew Henson and their team, credited with mounting the first successful North Pole expedition, arrived in 1899. Not long after, they tore down Greely's large, drafty Western-style prefabricated headquarters. Peary "felt it was entirely unsuitable for an Arctic area," Dawson said. They replaced it with three low-slung huts built designed to be similar to traditional Inughuit dwellings of nearby Greenland.
These are the buildings that Dawson's imagery project captured, and the images displayed on CyArk's website.
Much of Dawson's research focuses on how architectural styles reflect the respect that polar explorers gained over time for Inuit traditional knowledge. Probably not coincidentally, Peary's and Henson's three expeditions employed multi-ethnic teams — Henson was African-American, and other team members were Inuit. They hired Inuit families to live at Fort Conger and act as support staff and mentors.
One application of traditional knowledge: During the long winters at Fort Conger, their three huts, with their smaller, more-easily heated spaces were connected to each other with snow tunnels, in the Inughuit style, Dawson said.
Capturing a detailed visual record while the Fort Conger buildings are still standing was considered a necessity.
The simple passage of time in such a harsh climate has taken a toll. Added threats are impacts from the rapidly warming far-north climate– thawing permafrost and galloping erosion unleashed by reduced sea ice and stronger storm surges. Polar bears have pawed through the site, and even reverent eco-tourists carried to the site on cruise ships have created their own impacts, simply by walking around, Dawson said.
The buildings' dilapidated condition is not the only cause for urgency. The site holds numerous contaminants left behind by the Greely expedition — including mercury used in thermometers, arsenic used to preserve scientific specimens and hydrocarbon-laden tar paper used for lining.
'A time bomb'
"It was sort of a time bomb that they left behind, ticking away," Dawson said.
The legacy of contaminants poses a dilemma. Erosion and permafrost thaws could pull those materials into the soil, sea and food web. But there seems no known way to properly clean up the contaminants without damaging or removing the historic buildings, Dawson said.
So far, he said, no one has settled on a permanent solution. Park officials are monitoring the site, and things seem "relatively stable," he said.
Parks Canada did a cleanup in past years, mostly targeting arsenic powder, said Alex Stubbing, manager of Quttinirpaaq National Park. But remaining materials are tougher to remove, he said. A risk-management and remediation plan is in the works, he said.
The remote park gets few human visitors — an average of 44 a year, he said. Some years, numbers are bumped up by cruise ships. And some years, no visitors reach Fort Conger, he said. The last tourists to make it that far north were two kayakers who stopped by in 2011, he said. But park officials travel there every year to check on the site and watch for erosion and other problems, he said.
Counting the early explorers, the latter-day researchers, passengers on a few cruise-ship trips, independent travelers and others, only a few more people have been to Fort Conger than to outer space, Stubbing said.
His work on the Peary-era buildings done, Dawson has embarked on a new Fort Conger project — a 3D imagery resurrection of the demolished Greely expedition building. Since it no longer exists, Dawson will be relying on photographs, written records and some extrapolations.
Yet to come, but possibly on the horizon, is a system for visitors to transport themselves to a virtual Fort Conger.
University of Calgary already has a system that gives the user the sensation of standing in the old structures, with the appropriate acronym CAVE, for Cave Automatic Virtual Environment. A past project by Dawson and his colleagues recreated a lost traditional Thule-style dwelling, built partly from whale bones. The university invited three Inuit elders to review the work. The project was a hit, Dawson said. "One elder said he felt like a shaman going back in time," he said.
Contact Yereth Rosen at yereth(at)alaskadispatch.com