Russian volcano erupts, prompts airspace warnings in Alaska's Western Aleutians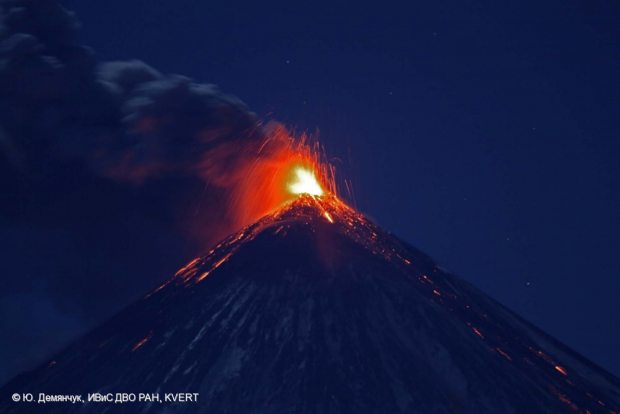 Some of the most active volcanoes in the world were currently erupting on the Kamchatka Peninsula in southeast Russia over the weekend, shooting ash tens of thousands of feet into the air.
On Sunday, shifting wind patterns put scientists on alert for ash that may potentially obstruct flight paths across the Bering Sea and Western Aleutians.
Russia's Klyuchevskoy volcano spurted ash 33,000 feet in the atmosphere on Saturday, the National Weather Service wrote. The eruptions continued on Sunday, with ash shooting 26,000 feet into the air.
The volcano has been erupting for almost a week, but wind patterns shifted over the weekend, said Jeff Freymueller, coordinating scientist with the Alaska Volcano Observatory. On Sunday, winds were carrying the ash east over the Bering Sea and Aleutian Islands.
A "Significant Meteorological Event" warning, also known as a SIGMET, was issued Sunday morning to alert pilots of the hazardous conditions in the area. While ashfall may disrupt flight plans, ash was not expected to fall over Anchorage, at least for now, the NWS wrote.
Klyuchevskoy is "part of a cluster of volcanoes that are some of the most active in the world" in terms of the amount of ash, smoke and lava they produce, Freymueller said. "It's really a pretty spectacular place."
Volcanoes highly active
The volcanoes of Kamchatka peninsula are thought to be highly active due to their placement almost directly on the edge of the Pacific plate — the sub-tectonic plate that makes up the so-called Ring of Fire along the edges of the Pacific Ocean, which spurs volcanoes and earthquakes from Alaska to New Zealand. Scientists suspect that the frequent activity on Kamchatka is due to the pattern of lava flow as it attempts to squeeze out of the Earth's mantle and around the edge of the plate, Freymueller said.
Russia's Kamchatka Volcanic Eruption Response Team, part of the Institute of Volcanology and Seismology, monitors 30 active volcanoes on the Peninsula, relying on seismic data, webcams, satellites and pilot reports to evaluate the volcanoes' status.
It has "not been unusual to see three or four (different volcano) eruptions at one time," Freymueller said. And sometimes the lava and ash erupts not from the summit, but instead from the sides of the volcano.
Kluchevskoy erupts at least once annually, Freymueller said. The nearby Sheveluch volcano was also active over the weekend. All told, seven volcanoes were listed as "active or restless" on Russia's Kamchatka Peninsula and the neighboring Northern Kuriles Islands on Sunday.
Check out this video of Klyuchevskoy in action on Oct. 19:
Contact Laurel Andrews at laurel(at)alaskadispatch.com and follow her on Twitter at @Laurel_Andrews