Storm driven by Bering Sea cyclone menaces Southwest Alaska
As if the partial federal government shutdown didn't cause enough problems for "The Deadliest Catch" crabbers working Alaska's Bering Sea. Now, just as they get to work at the start of the delayed opening of the crab season, Mother Nature has decided to slap them good.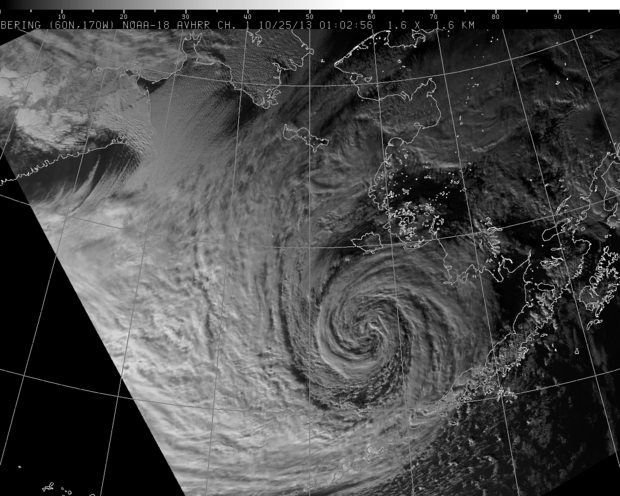 The National Weather Service reportsa Brrrr-icane, Arcticane, Snowicane, Snowpocalypse — or whatever fun word one might have for a monster Subarctic or Arctic storm — is rolling into the region.
The eye of the big extratropical cyclone driving the nasty weather around Bristol Bay, about 350 miles southwest of Anchorage, is clearly visible from space in National Weather Service satellite photos.
Storm warnings have been placed up and down the coast from the Alaska Peninsula and the Aleutian Chain, north. The storm, though large, does not appear as powerful as the one that smashed into the region almost exactly two years ago.
That storm, packing winds close to 100 mph, peeled roofs and siding off buildings and tossed semi-size storage containers about like Legos.
The weather service predicted the winds associated with this storm will peak at about 50 knots, or about 58 mph. Seas to 20 feet, enough to make most people more than a little seasick, are predicted. Onshore, the Yukon-Kuskokwim Delta was expected to take the brunt of the storm with winds up to 50 mph.
Contact Craig Medred at craig(at)alaskadispatch.com