Forecast: Winter white-out to continue in eastern Finland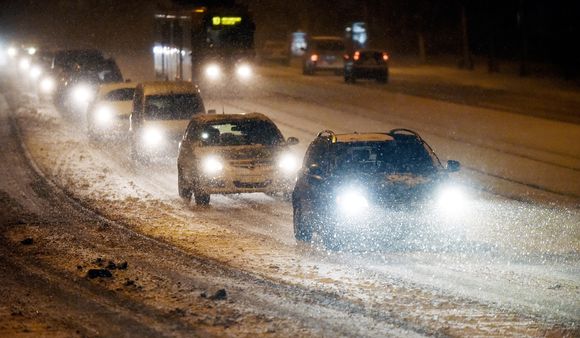 Heavy snowfall that blanketed southern Finland in recent days eased momentarily Thursday, but is expected to return with renewed vigour to eastern Finland. The Finnish Meteorological Institute FMI says it's not normal to see such an early and persistent start to winter.
Relatively dry and clear conditions on Thursday provided a welcome respite for motorists who'd struggled with heavy snowfall earlier in the week. According to meteorologists, however, clearer conditions are only temporary and will give way to a new wave of precipitation in the east.
"It's now starting to be so-called normal winter weather.  So of course conditions will be slick as a result of snow and cold road surfaces. Roads in the south have been cleared so they are clean and dry. Driving tracks may still be slippery in some areas," said Risto Nurminen of the Finnish Transport Agency.
Nurminen has been monitoring traffic conditions in southern Finland, with the exception of the Uusimaa region.
No major road accidents
"The traffic has been flowing extremely well and there have been no reports of road accidents," he added.
However motorists reported minor fender benders on Ring Road 1, Ring Road 3 and Tuusulanväylä, caused by slippery conditions in parts of the capital region.
The wintry conditions will persist as temperatures remain below freezing, said meteorologist Ari Mustala of the Finnish Meteorological Institute FMI. In Lapland, the mercury is expected to fall close to -20 degrees Celsius and snow may still be in the forecast..
"Now it's a bit drier here in the south, but a new band of precipitation is approaching from the southeast and it will move over eastern Finland in the next few days," Mustala noted.
The weather front could dump up to 10 centimetres of new snow, effectively doubling the amount of snow on the ground in some areas. The weather watchers have issued warnings for extremely hazardous driving conditions in northern Savo, southern Savo and northern and southern Karelia. Meteorologists expect lighter snowfall further west of the front.
Meteorologists: Conditions not normal
Coming this early in the season, the current deep winter conditions are not normal, not even for northerly Finland, Mustala observed.
"Especially here in the south, it is very early, if this is the start of winter. By no means is this a normal situation," he stressed.
According to Mustala there does not appear to be any chance of balmier conditions in the near future. However next week milder air currents may waft in from the west, bringing somewhat of a thaw.
"However it is not certain whether or not the weather conditions will change," he added.
Related stories from around the North:
Canada: Arctic sea ice hits new record winter low, Radio Canada International
Finland:  Warm Easter predicted across Finland… even for Lapland, Yle News
Greenland:  Changing Sea Ice: The Ripple Effect (VIDEO), Eye on the Arctic
Norway:  A letter from Svalbard's dwindling sea ice, Deutsche Welle's Iceblogger
Sweden: Snow-buried Stockholm begins digging out, Radio Sweden
United States: Ice extent still well below normal in Arctic, Alaska Dispatch News