N.W.T. golf team ready to tee-off at North American Indigenous Games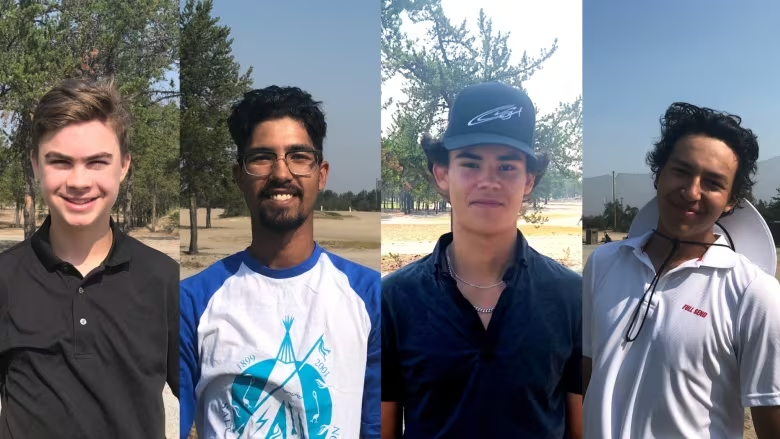 'It's going to be some of the best memories you will have for the rest of your life'
Take it all in.
That's the message to Team NT golfers from their coach Jake Roche.
Four young N.W.T.ers will soon head to the North American Indigenous Games (NAIG), which run July 15 to 23 in Halifax, as part of the golf team. They're among numerous athletes across the North who will be participating.
The team is made up of Deacon Lantz, Carter Coleman and Jacob Heron from Fort Smith, and Jackson Rochfuller from Hay River.
NAIG will feature two age categories: under 16 and under 19. All rounds will be at The Links at Brunello.
"It's going to be a bit of a challenge because none of these guys have played a course like Brunello," said Roche. "So that's going to be a challenge for all of them."
Inspired by Tiger Woods
At 14, Rochfuller is the youngest member of the N.W.T.'s team.
He said he expects the course to be similar to those he's played in Ontario but "like way bigger and it's gonna be definitely harder."
"But it's gonna be fun and I'm pretty excited for it," he added.
Heron echoed that excitement.
He's the newest player on the team and only started golfing three years ago.
He said he was inspired to start by seeing how far Tiger Woods could drive the ball.
Lantz said he liked the "pureness" of golf and how players also need a strong mental game to perform well.
He's played in a few local tournaments and is approaching NAIG "just like any other."
Hoping to make Fort Smith proud
Coleman said he started golfing at age 15.
"Since then, I kind of haven't stopped," he said.
He's also excited to play on a bigger course, one that "has everything a golfer needs."
He hopes to make his family in Fort Smith proud; he has a cousin that previously competed at NAIG, also in golf.
"I'm very nervous, but I've also heard if you're not nervous it means you don't care," said Coleman.
Coach Roche hopes his players harness that nervous energy.
As a previous participant as well, he said there's no similar feeling to playing in front of hundreds of spectators.
"I'm going to be straight up with them: 'Like you are going to be nervous and your hands might shake a bit, but it's part of the game and when you look back at it after the games are done, it's going to be some of the best memories you will have for the rest of your life. So just take it in and try to enjoy it as much as you can.'"
10th edition of the games 
This year marks the 10th edition of the games. The event started in 1971 as the "Native Summer Games" in Enoch, Alta. In 1977, William Littlechild presented his vision to host an international competition dedicated to Indigenous athletes. The inaugural NAIG event took place in Edmonton in 1990.
This year's edition will feature 16 different sports, including three traditional Indigenous events: canoe/kayak, lacrosse and archery.