As temperatures plunge, thousands still without power in rural Fairbanks, Alaska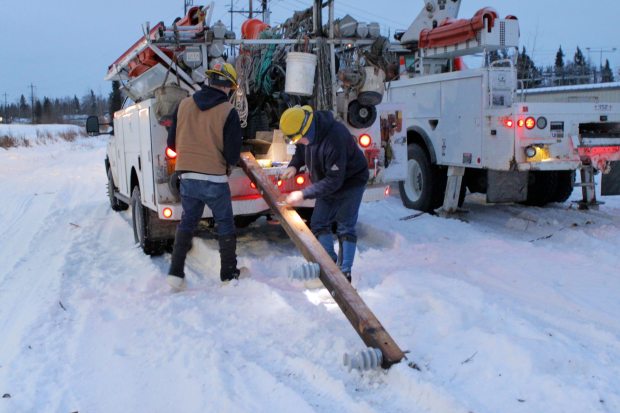 FAIRBANKS — With temperatures expected to drop near zero Friday night, thousands of residents in outlying areas without power will be fighting freeze-up this weekend, while utility crews struggle to clear downed trees and fix power lines.
About 3,000 homes remained without power Friday morning, the result of an unusual windstorm that tore through the Tanana Valley early Thursday with wind gusts of 55 mph and higher for two hours. Calm conditions are the norm in the Fairbanks area. The large, exposed spruce trees found throughout the area act like umbrellas when hit with winds of that magnitude and they can snap.
Wind knocked hundreds of trees into electrical lines and caused widespread power outages. Many people have wood stoves for backup heat, while some have woodstoves and generators. It's not clear how many houses face potential freeze-up problems.
Roughly 10 percent of GVEA's 34,000 members had no electricity Friday. On average, each member household has about three people, so 9,000 is a rough estimate of the powerless population when 3,000 members are not on line.
Generators sold out
Jon Sanford, power equipment manager at the Woodway, said the store sold out of generators by Thursday afternoon, as did every other store in town. Woodway and other dealers called each other to try and help as many people as possible, he said.
"We were inundated with phone calls and people bringing in equipment for repairs. My guys in the shop did a really good job of expediting the repairs, so they could take them home yesterday," he said. "We tried taking care of them because it is a big deal."
There were also people buying chainsaws all day or bringing in chainsaws for repairs, mainly by people who had to clear trees from driveways or remove them from their houses.
GVEA said it had hired every available contractor and lineman, journeyman and apprentice to help move trees and repair power lines.
"We're working to get as many folks back online as quickly as possible," Allen Gray, the GVEA power systems manager, said in a statement. The utility was working on neighborhood branch lines.
It asked those who have had power restored in rural neighborhoods to leave the back and front porch lights on to make it easier for the line crews as they go from road to road.
Classes canceled
The school district canceled classes and all events Friday, the third day in a row that schools stayed empty. In a community where for decades people took pride in never canceling school — no matter how cold the temperature gets — this still comes as a shock.
The problem in recent years has not been the legendary Fairbanks cold, but the more recent episodes of winter warmth. Bouts of rain and freezing rain have led to repeated school closures in recent years.
This time the freezing rain and snow that made driving hazardous Wednesday gave way to a unusual wind storm that shook houses and broke trees.
The Golden Valley Electric Association estimated that 3,000 households remained in the dark Friday morning, down from 13,000 early Thursday.
"Crews are working their way down the feeder lines, energizing subdivisions as they go. We have crews in the field 24 hours a day," GVEA said Thursday night.
'Havoc on our system'
GVEA has crews working from North Pole to Ester, responding to a storm that "has wreaked havoc on our system," spokeswoman Cassandra Cerny said.
As of Thursday night, there were outages near Nenana, Chena Hot Springs Road, Murphy Dome Road, Geist Road, Farmers Loop, the Steese Highway, University West, Aurora Subdivision, North Pole, Hamilton Acres and other neighborhoods.
GVEA serves about 100,000 people from Cantwell to Delta.
In downtown Fairbanks, there was little sign of a problem, though subdivisions in the city and beyond went dark anywhere from a few hours to most of the day.
Long sections of spruce trees snapped and crossed power lines, while in many cases the force knocked lines to the ground or snapped cross-members on power poles.
The borough opened North Pole High School and West Valley High School for those who wanted to find a place to keep warm. The Fairbanks North Star Borough School District closed school Friday out of concerns over road conditions and because of fears of staff shortages.
Days before all power restored
The utility said that it could be three days or more before all power is restored. The biggest problems occurred outside of town in heavily wooded subdivisions, where multiple blockages slowed progress.
GVEA crews, supplemented by contract workers, spread throughout the area to clear the way.
"Members living in the Cripple Creek, Chena Hot Springs Road, Moose Mountain, Johnson Road and Murphy Dome areas can expect longer outages due to the number of trees in the power lines," GVEA said Thursday afternoon.
The 69 phones lines at GVEA set up to handle calls from members without power were jammed throughout the day. Some people took to posting messages on Facebook. "I have 2 live wires on the ground, two other trees on top of the other wires in my yard in North Pole help!!!! Can't get thru on the phone!!" said Mary Wood.
The highest gusts occurred from midnight to 2 a.m., with winds from the southwest and west, peaking at 55 mph at the airport, 62 mph at Fort Wainwright and 49 mph at Eielson Air Force Base. There were many unofficial reports of gusts from 45 to 55 mph throughout the area.
Contact Dermot Cole at dermot(at)alaskadispatch.com. Follow him on Twitter @dermotmcole