11,000 customers without power in Sweden's North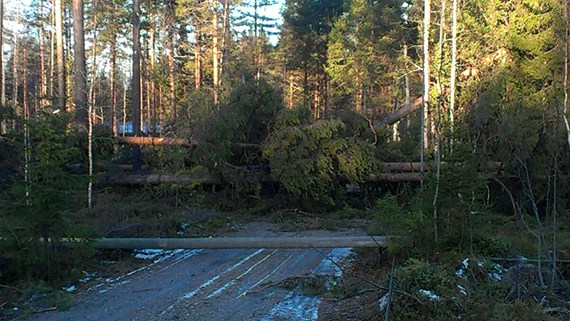 Thousands in northern Sweden remained without electricity Monday morning after high winds blew over trees and torn down power lines during the weekend, Swedish news agency TT reports.
Power companies Eon and Vattenfall said more than 11,000 customers are without electricity with the worst affected being the northeastern province Västerbotten with 6,800 households lacking power while more than 4,400 in the northwestern province of Jämtland and the northeastern county of Västernorrland are in the dark. Repair crews are out now working to restore electricity.
Eon said many of the interruptions to its power lines are spread over a large geographic area.
"Our ambition and goal is that customers should have power back sometime during the day or evening. It's possibly a few customers may spend another night without power, that's a risk we see," Jakob Holmström, communications manager at Eon, told news agency TT. He said Eon has crews and helicopters out surveying the damage and helping remove fallen trees.
High winds hit the area late Saturday and early Sunday, initially leaving some 35,000 households in northern Sweden without electricity. So far, no injuries have been reported. The storm has also forced several schools to be closed.
Although the storm has subsided, windy conditions continue in Lapland with a Class 1 warning covering the area.
"But the wind is expected to die down more and more during the afternoon and evening so it will calm down from here on out," said Sandra Andersson, a meteorologist at Swedish weather service.
Related Link:
No power until Monday for many households, Radio Sweden