Shell plans Arctic Alaska comeback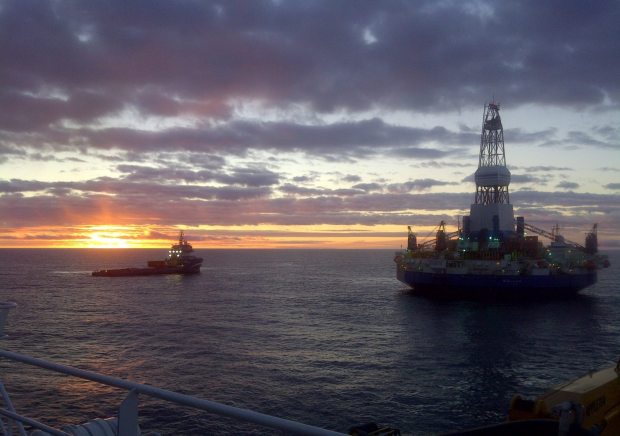 Royal Dutch Shell is back, baby! Well, maybe.
The Netherlands-based oil giant has long said it would not return to offshore drilling in Alaska until it had fully learned its lesson following 2012, a mistake-riddled year that ended when Shell's runaway drill rig, the Kulluk, ran aground during a Gulf of Alaska storm.
Those lessons have apparently been learned. According to a report from Reuters, Shell plans to return to offshore drilling in the U.S. Arctic Ocean off Alaska's remote Northwest coast in July, with operations continuing through October.
The Noble Discoverer, one of two floating drill rigs used in Alaska in the summer of 2012, will return to the company's Burger prospect in the Chukchi Sea, where the federal government allowed preliminary drilling of a single well. In 2013, Shell took what it called a "pause" from offshore drilling off Alaska, giving it time to refashion its plans and upgrade equipment, including the Kulluk.
Next year, Shell won't use the Kulluk as a backup drill rig in case anything goes wrong, according to Reuters, citing Shell's Integrated Operating Plan. Instead, Transocean's Polar Pioneer, with a cost of at least $600,000 daily, will be on scene to serve as a backup. According to an October statement by Simon Henry, Shell's chief financial officer, the Kulluk will be written off for hundreds of millions of dollars.
The Integrated Operating Plan, dated Nov. 26, isn't Shell's exploration plan. The Integrated Operating Plan was requested by the Interior Department after a federal review of Shell's 2012 season.
Shell spokesperson Meg Baldino said in an email that the plan "describes the scope of our potential exploration and support activities in 2014 and, importantly, the procedures and competency assurance programs put in place to achieve safe and responsible exploration."
The exploration plan is the document that must be approved by federal regulators. That plan was submitted to the Bureau of Ocean Energy and Management on Nov. 6.
The agency sent it back to Shell seeking answers to questions, many of them surrounding how air quality requirements will be met, said John Callahan, a spokesman with BOEM in Alaska.
Regulators are reviewing Shell's Integrated plan to see if it answers questions raised in the exploration plan, he said. Once all the questions in the exploration plan are considered answered, the agency will have 30 days to bless the plan, reject it, or send it back for more answers.
"The ball is in Shell's court now," Callahan said. "They have no requirement for them to respond to our request in any given time."
Mistakes that Shell made in 2012 "galvanized" environmental resistance as Shell sent the damaged Kulluk to Asia for an overhaul. Plans for 2014 drilling include "rotary and fixed-wing aircraft, along with ice management vessels and a weather advisory center," the Reuters article said.
Still, the operating plan includes this humble statement: "The planned 2014 operations may encounter many challenges. Vast distances, harsh weather and sea conditions, possible volcanic and earthquake activity, and sparse shore-based infrastructure represent some of the considerable obstacles that must be planned for and accommodated."c
Contact Alex DeMarban at alex(at)alaskadispatch.com. Reporter Laurel Andrews contributed to this report.