Alaska Highway permafrost gradually disappearing: study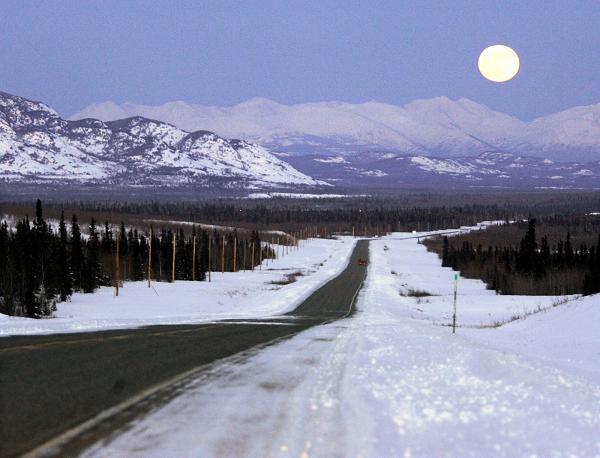 Permafrost along the Canadian portion of the fabled Alaska Highway is disappearing, and coverage is steadily moving north, a newly published research paper reports.
Testing in 1964 found permafrost at 57 percent of sites examined along an 825-mile stretch of highway running from Fort St. John, B.C., to Whitehorse, Yukon. But in 2007 and 2008, when the 55 sites in the 1964 survey were retested, scientists found that only 29 percent still had permafrost.
The study, published in the journal Environmental Research Letters and discussed about a month later at a permafrost conference at Purdue University, was conducted by researchers at the University of Ottawa and the Geological Survey of Canada.
An obvious correlation with the diminished permafrost along the highway route is the documented warming of air temperatures during the period, the study says. Ambient air temperatures have risen by 1.5 to 2 degrees Celsius, mostly in the 1972-87 period, the study says. Meanwhile, there are 14 or 15 fewer freezing-degree days per year now than there were in the mid-1960s, the study says.
The condition of discontinuous permafrost is the result of factors more complex than warm or cold air temperatures, the study authors said. Spots along the southern part of the highway where permafrost remains tend to have thick layers of peat or vegetation above ground, they said.
That gradual thaw along the highway is continuing, according to measurements by researchers who have been checking the sites annually, said Antoni Lewkowicz of the University of Ottawa.
But expect some of the permafrost, even at some posts where ground temperatures are right at the freeze-thaw point, Lewkowicz said. And if the permafrost lingers, the slow thaw and the resulting disruptions will continue, thanks to the warming climate. And the highway creates its own thermal effects, he said.
"That means that the problems associated with infrastructure and thaw of permafrost will be around for a very long time — for our grandchildren and great grand-children," he said in an email.
"So the take-home message is: Permafrost is thawing and becoming less extensive (and) the problems associated with permafrost thaw are not decreasing," he said. "We can design infrastructure for non-permafrost areas and for areas where permafrost stays intact, but it's still extremely difficult to design for thawing permafrost."
Contact Yereth Rosen at yereth(at)alaskadispatch.com
Related Links:
Melting permafrost eroding Siberian coasts, Ice-Blog – Deutsche Welle
Permafrost data helps city in Canada's Northwest Territories plan road repairs, CBC News