Canadian Inuit community applies for holiday booze ban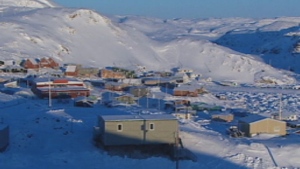 The alcohol education committee in the Inuit community of Kimmirut in Canada's eastern Arctic territory of Nunavut is asking for a complete ban on booze in the community between Dec. 20 and Jan. 4.
It's not uncommon in Nunavut for a number of communities to go dry during the holidays because of problems caused by excessive drinking. Under the Nunavut Liquor Act, communities can apply for dry periods.
It's been about a year-and-a-half since Kimmirut residents voted to allow alcohol into the hamlet subject to restrictions.
"It could be better for everyone," said Kolola Pitsiulak, the outgoing vice-chair of the committee, about the holiday ban. "Christmas can be celebrated without liquor."
The RCMP, the hamlet and the Department of Health and Social Services support the request.
"Hopefully then we'll have more of a family time and people will enjoy Christmas games without the presence of alcohol," said Mike Richards, the hamlet's senior administrative officer.
Other hamlets are also considering banning alcohol for the holidays. First, they need final approval from the Liquor Licensing Board.
Related Link:
Special series on alcohol in Canada's North, CBC News
The cost of alcohol abuse in Finland, Yle News
Perils of Prohibition: History repeats in Alaska's failed attempt to stamp out booze, Alaska Dispatch