Finland to switch on major solar power facility next year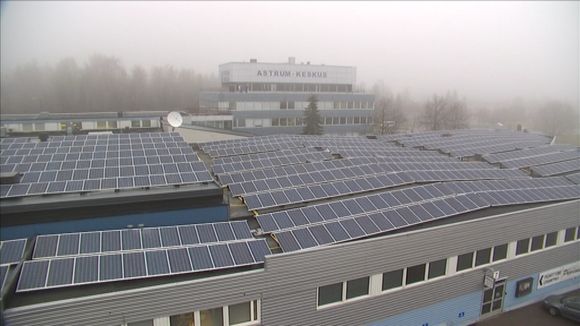 Finland's southwestern city of Salo has just completed Finland's largest solar power farm, designed to power the Astrum business centre.
The plant is one of just a few solar energy facilities in the country.
Finland's largest solar energy plant is set to power on next year in the southwestern city of Salo, which has recently been devastated by the shuttering of production facilities by the former mobile phone giant Nokia.
The connections with Nokia run deep. The plant will supply energy to a business centre located on the premises of the former television and electronics company Salora, which later became part of the emergent Nokia in the 1990s. The plant's maximum capacity is 322 kilowatts and is one of just three in Finland with that level of output. The others are both located in the Helsinki metropolitan area.
The competition to be the country's biggest solar power farm is heating up, with Lappeenranta in southeast Finland also building a major league facility. Not only is the Salo plant the largest in Finland, it also dwarfs almost all others in the Nordics.
The solar panels will begin producing energy at full capacity in March and the excess energy generated by its more than 1,000 solar panels will spill over into the municipal grid, according to project director Esa Areva of the lead contractor Areva Solar.
"The electricity grid will always be alongside. It may be that that on some days, the mid-day hours will produce a few extra kilowatts. The energy will be put to use," Areva added.
Householders warm; businesses cool on solar energy
Currently just a couple of thousand households in Finland use solar energy. Legislative changes introduced last year now allow electricity produced by solar energy to be channeled into the national power grid. It's now believed that this development will accelerate the demand for solar power in Finland.
"Modern distribution companies more readily accept these systems as producers for the grid. Because the system has also been proven to work in Finland's demanding power grid, this demonstrates complete compliance with Finnish electricity standards," Areva explained.
While householders have warmed up to the idea of solar power, the corporate sector has been cool on the option. Advocates of solar energy speculate that reports about profitability in the media have scared off businesses. In spite of the Salo project's 500,000-euro price tag, Salo entrepreneur Lasse Jokinen has defended the power source.
"We are now hoping for a beautiful spring that will bring lots of solar power. Every year we have the same kind of winter. Maybe we'll be lucky enough next January to get some light," Jokinen quipped.
Finnish sunlight possibly more effective energy source
Finland's damp and dark early winter days make it difficult to believe that solar power could take off in Finland. However Areva Solar chief executive Anu Areva pointed out that Finnish solar power could be more effective that even Spanish solar energy. She noted that if the temperature of a solar panel rises too high, it becomes less effective.
"In winter for example, it's good for solar panels to have a cold environment. In March when it's very sunny, we get a lot of electricity," Areva, explained.
Areva compared Finnish electricity generation to the situation in northern Germany.
"It's just a matter of time before we begin to really trust solar energy," she added.
Related Links:
Solar power in Arctic Alaska?, Alaska Dispatch
Sweden looks to double today's solar cell capacity, Radio Sweden