Would-be homeowner faces long odds in Yellowknife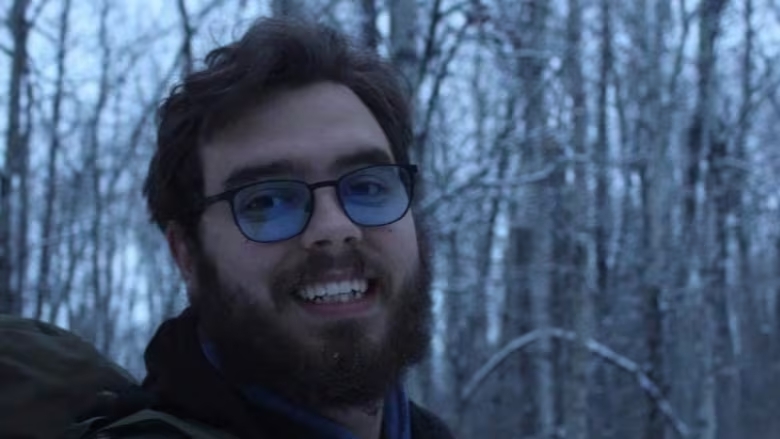 "I'm surprised there's not a mass exodus, honestly," says Caleb Patrick.
Sunken ceilings, loose electrical wires, and broken windows are just some of the issues a Yellowknifer has found looking for a house in the capital.
Caleb Patrick is an electrician who moved back to Yellowknife six months ago. He's trying to find a home to start a family with his wife, but is finding very few safe, affordable options for both renters and buyers.
"We looked at one house this summer and it was $200,000 and the whole colour of the house was a yellow almost because of how much the person smoked in it," he said.
Loose electrical wires [were] hanging from the ceiling. There was broken windows. And honestly, the cracked windows are fine, but it's just, you can't go to a place and look at it and go, 'Hey, this thing's going to burn down.' – Caleb Patrick
Patrick isn't alone; a 2019 report by the GNWT found that 23 per cent of homes in the territory were found to be in core need, well above the 12 per cent national average. This means that nearly one in four homes were lacking basic facilities, needed major repairs, were overcrowded, unaffordable, or a combination of these.
Lisa Thurber founded the Tenants Association Northwest Territory in February 2023. The organization advocates for the rights of tenants in the territory. Thurber says the problem has been worsening, those who've spoken to her have reported mould and infestations.
"We have had rats coming out of apartment buildings in Yellowknife now and we've never had a history of that," she said.
Many houses are simply out of reach for the average person. Not only is it expensive to rent or buy, the expenses involved in maintaining a house are a further burden to tenants. Even with two incomes, Patrick said that buying a house is a dream lots of young people in the Northwest Territories feel is unreachable.
"Everything adds on top. So the incredibly expensive house, the cost of heating that house, the cost of electricity up in the Northwest Territories — it's not feasible," Patrick said. "I'm surprised there's not a mass exodus, honestly."
Quality of Life
Joey Carpenter lives in Sachs Harbour and has been living in public housing since 1981. He said he is very thankful for the housing that the government has provided to him and his community, but that it fails to take into account the lifestyle of those living there.
There's no room on the counters to prepare food. We all live off the land. When we get caribou or muskox or seal meat, we need a big space to prepare our food. – Joey Carpenter
Carpenter also said the lack of insulation between rooms leads to constant, inescapable noise. Mechanical noises from furnaces and water boilers were particularly distressing, and he compared the constant din to sound torture in terms of its long-term psychological effects.
"There's a lot of noise pollution, and you know what noise does to your psyche. After a while, if you really look into it, psychologists say it weakens your will," Carpenter explained.
Broader impacts
The lack of adequate, affordable housing in the N.W.T. is also stunting economic growth and overburdening healthcare. Stephanie Irlbacher-Fox is an advisor to Indigenous governments in the territory, and adjunct professor at the School of Public Policy at Carleton University.
"If we were to solve the housing problem, it would solve a lot of problems in relation to jobs, the economy, quality of life, health, social wellness. All of those things stem from people not having a secure place to live, not having one of their basic needs met."
Irlbacher-Fox said the territory can't properly address mental health or addiction if the people struggling don't have a safe place to live. Nor can proper healthcare services be provided if there's no place for incoming doctors, nurses and other healthcare professionals to live. The same applies to those working in other sectors as well.
What people want
How the incoming assembly addresses the housing is yet to be seen, but there are a few ideas. Carpenter would like to see greater transparency when it comes to the costs associated with building public housing.
"Just give us all that information and we'll have a better understanding. Right now, we really don't know, we're just kind of guessing," he said, "But if we know the actual cost of everything? That might allow us to lobby the government in a better way instead of just screaming at them."
Irlbacher-Fox says the incoming government needs to critically assess how to allocate the territory's limited resources to prioritize housing. Looking at where funding is going in the territory and what areas may need to be cut — which may come with some public scrutiny.
It's working within what you have, but doing that in a way that you maximize every dollar. And to be able to do that, we get into a lot of planning and fixes and proposals that probably don't resonate with the public. – Stephanie Irlbacher-Fox
Additionally, Thurber said a review and revision of the Residential Tenancies Act could help stabilize rent prices in the territory.
"It's really about the fact that we are a small territory and only 45,000 people and then some," she said. "So we should not be that hard to house."
Related stories from around the North :
Canada : Prime Minister announces $20.8M for 50-unit housing complex in Yellowknife, CBC News
Norway : Norwegian military watchtower got electricity from Russian hydro-power plant—then it was cut, The Independent Barents Observer
Sweden : Electricity prices climb in Sweden as Russian gas pipeline goes offline, Radio Sweden