Canada's Northwest Territories unveils ambitious energy plan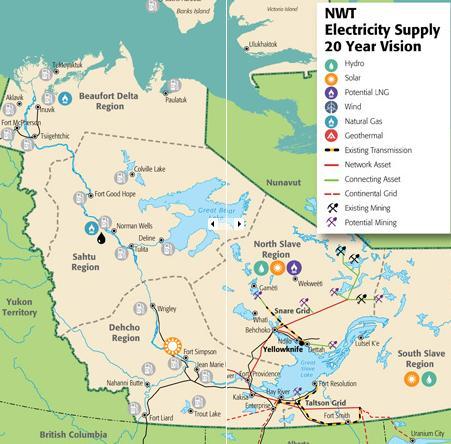 The government in Canada's Northwest Territories (N.W.T.) has unveiled a grand plan for the N.W.T.'s energy future.
The plan aims to lower the cost of energy and replace diesel generated power with renewable energy, but it's an expensive vision, and one that will take decades to realize, if it's realized at all.
The lynchpin of the plan is linking the territory's two hydro grids — the Snare and the Taltson.
The Snare grid currently serves Yellowknife, Dettah, N'Dilo and Behchoko. The Taltson grid serves Fort Resolution, Fort Smith, Hay River and Enterprise.
Connecting the two will bring communities such as Fort Providence and Kakisa into the grid.
Adding new transmission lines south would allow the corporation to sell power to Alberta and Saskatchewan.
The price tag is an estimate $600 million at this point.
In the meantime, over the next three years the corporation is going to work on smaller goals.
This year 55 electric hot water heaters in some of the most remote communities will be replaced with oil-fired heaters, at a cost of $400,000.
More than $1 million is budgeted for a solar array to supplement diesel power generation in Colville Lake.
And the GNWT hopes to link Whati to the Snare grid at a cost of $3 million.
The territorial government is currently seeking an increase in its federal borrowing limit to speed up expansion of its hydro system.
The Northwest Territories Power Corporation will be briefing media on technical details of the plan later this morning.
Related Links:
Read the GNWT report: A Vision for the NWT Power System Plan
Ex-commissioner calls for Alaska energy mega-projects analysis, and 'call bluff' on North Slope gasline, Alaska Dispatch